I want to share a story with you. This is the story about how I used project management to transform myself and learned that project management can change lives. I am not telling you this story to try to sell some miracle weight loss program. Instead I am telling you this story to illustrate the power of project management when applied to an important goal. Plus I want you to know how I became so passionate about project management and continuous improvement.
If you want to read the full story please consider purchasing my book Operation Melt: How I Used Life-Changing Project Management to Lose Over 100 Pounds in Under a Year.
You Don't Get Unhealthy Overnight!
My name is Tony Weaver and I live in the Merion Village area of Columbus, Ohio with my wife and partner in life, Liz.  Until June 2017, I lived a pretty unhealthy life until I made a decision that changed my life.
Poverty Enables Obesity
I grew up in a family of 4 total people: my mom and dad, my younger brother and me. We grew up in the Franklinton area of Columbus in the 80s and 90s. It was a rough, non-glamorous neighborhood when I was growing up. It really lived up to its nickname of "The Bottoms".
I grew up pretty poor – utility shutoffs, repossessions, multiple bankruptcies, public assistance and such. While not the most relevant story for this blog, I will just say it was a rough existence. It was made rougher when I discovered that it was a series of bad choices that led us to poverty.
Choices are powerful & we choose our own destiny!
An Unhealthy Journey Begins
As you can imagine, growing up in this kind of environment has quite an impact on a kid.
I never developed healthy habits when I was younger. I had a complete lack of exercise and physical activity. I had fairly poor nutrition – when you have no money, you eat the things you can afford and that is often not very healthy.
I grew oversized very young and was obese as early as elementary school. As far back as I can remember, I weighed significantly more than the other kids. When you grow up as the fat kid you get picked on, bullied and looked down on the whole time. So I never really built strong self esteem and was always looking for ways to fit in throughout my growing up. This often led me to make bad choices like skipping class to hang out in the band room or computer lab or something.
Because of my shaky foundation and bad choices, I nearly didn't make it into high school and I was on the same path as my family and was at risk for continuing the cycle of poverty.
My Poverty Turning Point
In high school I made some choices that helped the situation a little bit. I joined the marching band and junior ROTC and began to understand the value of hard work. Thanks to some very committed teachers I began to recognize and apply my talents and started learning to motivate myself to accomplish my goals.
I graduated with honors and went to college using scholarships and a lot of loans. In college, I learned 2 major things that had an impact on my health…
I learned to monetize my love of technology. I ran my own freelance IT consulting business in addition to being a major contributor to building a connected college.
I learned to fit in with other through continued unhealthy eating and drinking choices.
Poverty Behind Me, But was Early Death Ahead of Me?
My commitment to technology positioned me well at graduation time and I started a great job in the tech industry in 1998. I worked long hours on a frequent basis and ate poorly (delivery, vending machines, bars, etc.). Every day I was trying to earn a lot of money so I never had to live poor again. But I allowed my health to suffer – it wasn't my priority.
In 2014 my significantly obese and socially withdrawn dad died at the age of 59.
He went from hosting thanksgiving dinner at his house in November to going into the hospital semi-non-responsive in March. From there he was in and out of the ICU and nursing facility until he was put on life support in June. My brother and I were presented with a choice of whether to continue the life support or not. Eventually, in mid-July, he died naturally and we never had to execute on the choice.
Reaching a Turning Point
As you can imagine, seeing my incredibly overweight father die at 59 after his mother died at 63 had quite the impact on me as I approached age 40.
I had moved into a VERY high stress job in a pretty negative environment. So, I was really feeing stress and working long hours.
I was still not paying close attention to what I was eating and was making some pretty terrible choices. My exercise routine was non-existent and I led a pretty sedentary lifestyle.
I was even making jokes about the severity of the situation. I would talk about the fact that my dad died at 59 and his mother at 63 and would tell Liz that she should plan for her second husband now. I would say things like, "I am overweight, eat like crap, don't exercise, drink and have a high stress job, so I am on the right path!" It was mostly a joke, but there was some seriousness built into it for sure.
I had grown to a size 52 waist and wore a size 3XL. I was starting to find lots of 3XL clothes that weren't fitting. I hated how I looked when I looked in the mirror and in photos. I was way too big, and I just assumed that I would be for the rest of my life. I was happy in most other aspects of my life, so I pretty much ignored my health.
Here is an example of what I saw in photos and in the mirror that I hated so much.
In short, throughout my adult life, I have been on a bad road from a health perspective. I was very possibly entering into my last 20 years on this planet. But, I never connected those dots.
The Decision that Changed My Life
After one weekend of poor decisions I got worried about my health and decided to make my first doctors appointment in over 15 years. That is when I learned a lot of bad things about the state of my health.
I was 325 pounds! That was a shocking, disappointing and embarrassing shock right at the start of my appointment.
My nutrition was completely irresponsible and very bad for me.
I was working far too many hours and had an unhealthy level of stress.
I was drinking too much: quantity and frequency.
I wasn't sleeping enough or getting enough water.
I was getting a dreadfully low amount of exercise.
My blood pressure was way high.
I walked out of the first appointment with my doctor very disappointed with myself. I was failing at my health! I was on a path towards the early death that I kept joking about. I had let myself get up to 325 pounds!
This was my moment! I needed to make a change immediately and never look back. I made the decision to take action and do something. I just needed to figure out what that something was. But I needed to lose weight, lose it now and get better.
I was making a choice, I was going to fix this and was not going to let myself fail!
I needed to figure out a way to approach this journey where I could leverage my strengths and natural wiring in order to ensure success. I decided that the only way this journey was going to work for me was if I did it my own way and this meant setting some boundaries.
I was NOT follow somebody else's plan or fad diet
I was NOT going to consider surgery
I was NOT giving up things I enjoyed (beer, bourbon, BBQ, etc.)
I was NOT going through this alone, I leveraged social media for motivation, accountability and to help others
I focused on the basics and turned to some things that had never let me down to guide my journey: project management and technology. I also added in a touch of marketing by branding my journey as Operation Melt based on the comments I kept hearing that I was "just melting away!"
My Results
Obviously my story has a happy ending, so far, or else I wouldn't be sharing it. I experienced significantly positive results in a number of different ways and I want to share them all with you. I am proud of my results AND I am hopeful they will inspire you to pursue and crush your own goals.
Weight Loss
This graph depicts the latest snapshot of my weight loss progress to-date. You will notice that it is a constant blend of ups and downs as is this journey.
More Than the Numbers
The numbers are very important to me and really tell the story of my results so far. The numbers are a huge motivator, but they don't tell the full story by any means. Let me show you my results through some before & after pictures.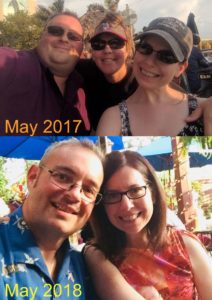 Achievements
One of the most rewarding parts of this journey has been to accomplish things that I couldn't have thought possible when I started.
My First 5k
I hosted and ran my first 5k on the 1-year anniversary of kicking off my Operation Melt journey – the Operation Melt First Time 5k. I never expected to be a runner and here I am running my first 5k. Read more about it in my blog post: Milestone Moment: One Year of Melting.
Then I Kept Running & Getting Better
I didn't stop at my first 5k. I kept running more and more races and got faster each time. I even ran the Columbus Oktoberfest 4-miler (really only 3.54 miles) which was a stretch goal I set for myself in the first few months of my journey.
Columbus Half Marathon
One of my biggest accomplishments to date was finishing my first half marathon at the Columbus Marathon. This was an amazing and emotional moment for me. I finished a half marathon just 16 months after weighing in at 325 pounds after a lifetime of obesity! Read my full half marathon recap in my blog post: 325 Pounds to Half Marathon.
Writing this 2 weeks later I am still in awe about this achievement. It wasn't my fastest run but it was my biggest (and one of the most difficult) accomplishment yet in my journey.
Rediscovered Myself
Finally this journey has produced a result that I never expected – I rediscovered myself. I learned that I am powerful and can accomplish anything I decide to make a priority. I built more confidence in myself than I ever had in my life.
I also learned that I have superpowers!
I am able to change goals into results for myself and for others. I have a passion for helping people achieve their biggest goals and want to follow this passion! I am going to turn this journey, my successes and my superpowers into an unstoppable mission.
I am going to prevent goals from dying of loneliness! 
Want to Know More?
This is just a brief summary of my story. I share my full story, my approach and my lessons learned along the way in my book. Please consider purchasing a copy and investing in your goals.