Thank you for reading this week's Operation Melt update.
Operation Melt started as a blog to share my personal transformation and weight loss story. After achieving success with that goal, Operation Melt has evolved into a platform to help inspire, motivate and equip people to achieve their own personal and professional goals so they can live their best lives.
I am trying to build a world where no goal ever dies of loneliness.
Throughout my journey, I have learned that many life lessons can be learned by getting fit. This week I am sharing another installment of Fitness Lessons are Life Lessons.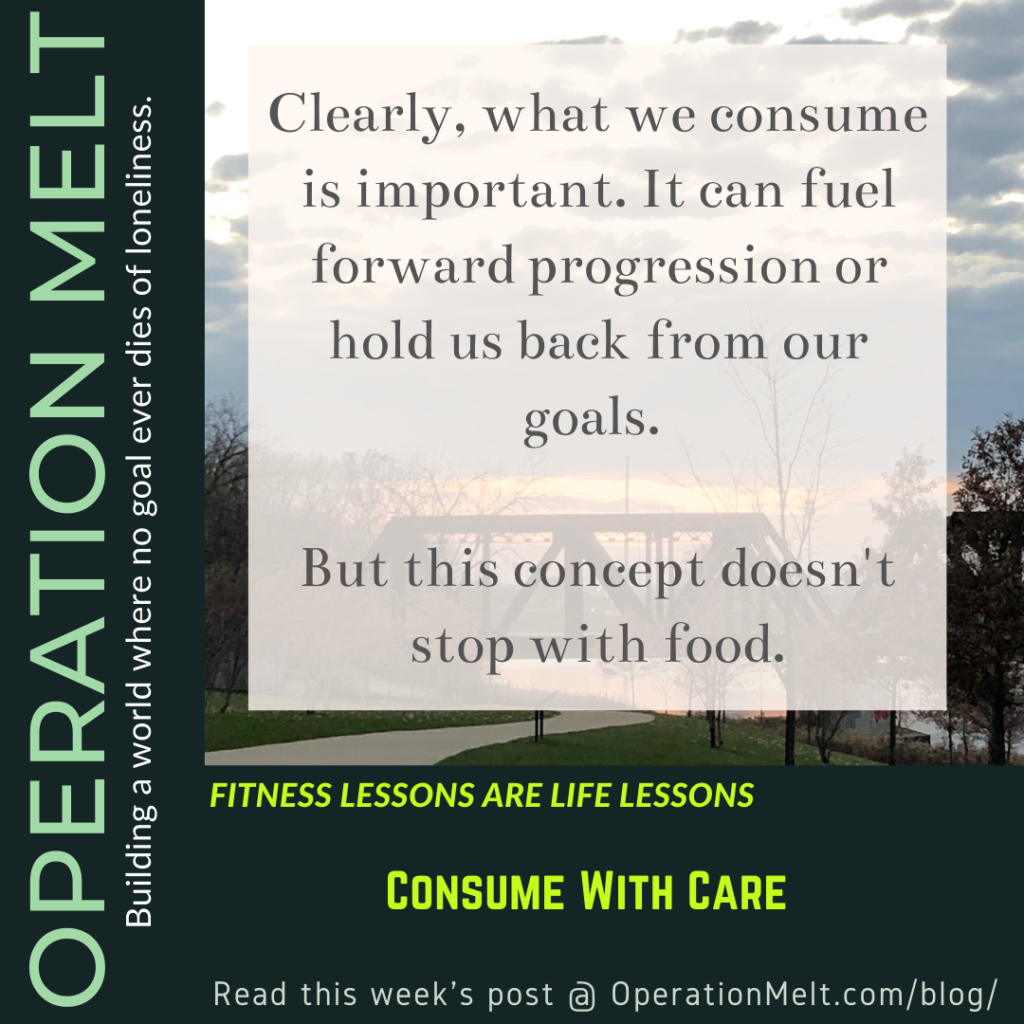 ---
Fueling Progress or Holding You Back
One thing that I learned throughout my fitness journey is that what I consume matters.
The amount of calories I consume leads to achieving or maintaining my weight loss. It can also lead to weight gain if I consume more calories than I burn. That means that it is very important to be aware and keep track of what I am consuming. As I have said over and over again, auto-pilot is the enemy of our success with any of our goals.
But the amount I am consuming is only part of the story. The content of what I consume matters even more. I recently went for a long morning run after eating a terribly unhealthy late-night snack and my run felt terrible. On the other hand, if I properly consume the right balance of protein, fiber, sodium, carbs and other nutrients, a run or a workout can feel great!
The right amount of calories can move you towards your weight goals in a healthy way. Then, the right composition of those calories can lead to peak performance or a crappy performance. We really are what we eat!
Clearly, what we consume is important. It can fuel forward progression or hold us back from our goals. But this concept doesn't stop with food.
What are you allowing in your brain?
Another lesson that I have learned about consumption is that what we allow in our brains is as important as the foods we consume. For example, my running speed improves when I am listening to music or motivational speeches set to music versus listening to podcasts.
Like the way our bodies process the foods we allow into them, our brains process the content that we allow into them as well. The phrase "we are what we eat" can be expanded to we are what we consume. When what you are consuming doesn't align with your goals, you are risking failure.
If you want to start your day expressing gratitude and reflecting, starting with checking your email or social media may not set you up for success.
Similarly, if you have a block of time that you want to use to be productive and cross things off your list, allowing yourself to get sucked into social media may result in that productivity evaporating before your very eyes.
If you want to be informed and aware of current events, your favorite news source may actually be influencing and enraging you instead.
If you want to expand your mind by reading, but you turn on the television for some background noise, you may get sucked into some bottomless, binge-worthy show.
Plus, as I wrote about in My Hazardous Mistake, if you want to be at peace and have faith in humanity, you may want to avoid reading the comments section on social media posts.
There are lots of opportunities for us to fail to achieve our goals, big or small, based on our choices of what we consume or allow into our brains. But we have control of this, we can make a different decision.
Consume With Care
Like many other areas of our life, fitness and non-fitness alike, consuming with care starts with not consuming mindlessly. Don't trust your life to auto-pilot. Be aware, be deliberate and be successful.
Before you consume, stop to think about what you want to accomplish in this moment. How do you want to feel?
Do you want to feel inspired? Do you want to feel accomplished? Do you want to laugh? Do you just want to unwind?
Once you know what you want to accomplish in the moment, choose what you consume accordingly.
One last tip for careful consumption: quantity matters. Make sure to stay disciplined about your consumption and never over-consume anything. Set some limits or budgets to make sure that you continue to live a balanced life. For example, maybe limit yourself to 15 minutes of social media or to just two episodes of your favorite streaming show.
By making deliberate, informed decisions about our consumption, we can create an environment in which our goals can flourish and our dreams can come true. If we mindlessly consume garbage, we set ourselves up for failure.
I Need Your Help
Before you go I would like to ask you for a favor. I can't build a world where no goal ever dies of loneliness on my own. Please consider helping your friends find today's post by following me on Facebook, on LinkedIn or via Instagram and share today's post to your feed.
While you are at it, I'd love to hear your thoughts on today's post, your goals or anything else on your mind. Send me a note via my Contact Me form,
Thanks again for reading today's post and here's to achieving your most important goals!
Sign Up
Want these updates delivered straight to your inbox? Sign-up below: