This was a big week in my Operation Melt journey on many different fronts. It kicked off last Sunday with setting a personal record in a 5K race, included a 3-month check-in on non-weight measurements, featured the launch of my book and a big confidence-builder run. Plus my weight started getting back to normal after being elevated during the previous week which makes me happy.
Speaking of things that make me happy, this week was also our annual March Madness Vacation. For years Liz and I have taken the first two days of March Madness off of work and spent four solid days watching basketball together. We watch it at home and we go out to restaurants and bars and watch with other fans and some of our friends. It is a ton of fun but can also turn into unhealthy decisions.
Fortunately I was able to avoid letting my vacation time become a fitness setback. How did I do it? I followed my own advice. In November I shared a Healthy Hack that I called Pay Yourself First where I talked about how to approach "bonus" days or vacation days. This is the approach I followed during these four days off and it worked well.
My Book has Launched
After a year of writing, editing, revising and preparing, my book finally launched this week!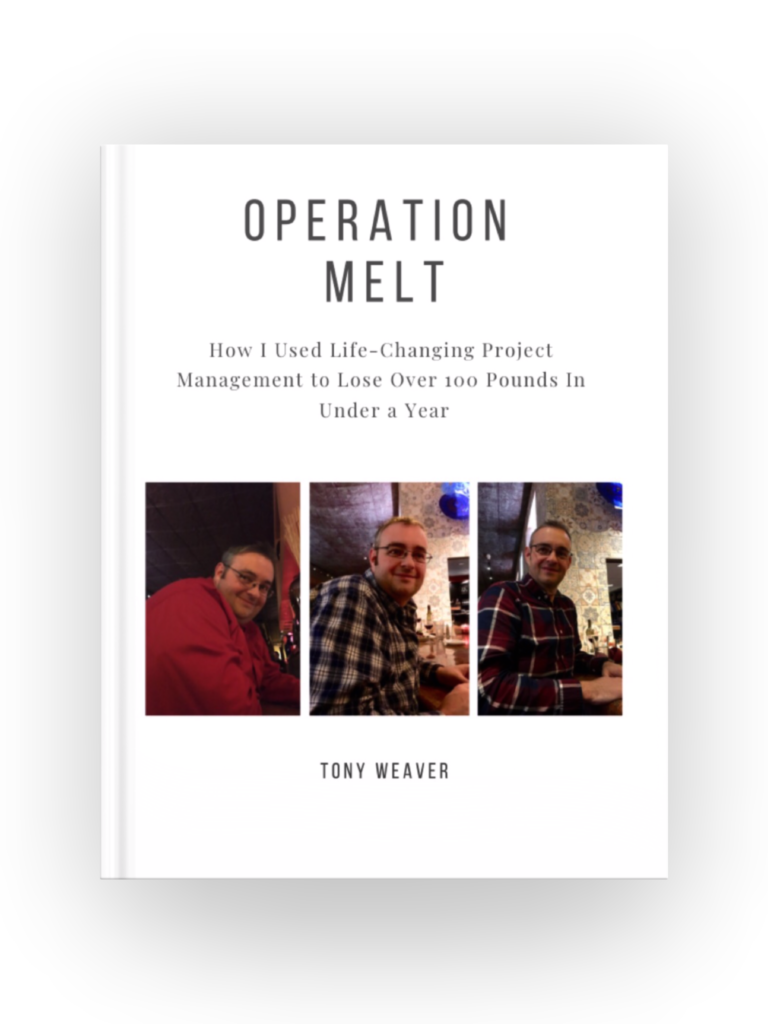 On Wednesday I officially launched Operation Melt: How I Used Life-Changing Project Management to Lose Over 100 Pounds in Under a Year on my website. My plan is to start with selling the eBook on my website for a few weeks and then I will expand to iBooks and Amazon. I am also planning, depending on interest and feedback, to release a second edition this summer as both an eBook and a paperback.
I wrote this book because I wanted to tell my story. My hope is that I can help people accomplish their big goals by using project management. We all have the power to choose to become the people we want to be, we just need some structure to make it happen.
More Milestones
After last week's big anniversary of my 100-pound weight loss milestone this week brought another anniversary. This week was the one-year anniversary of starting to work with my personal trainer Teresa Moore and The Fitness Loft. For the past year we have worked together weekly to take my fitness journey to the next level and to look past the weight loss.
In honor of our training anniversary Teresa wrote a very kind Instagram post about our journey. Click on the photos in the slider below to read full size.
Most importantly the training is working! I can do things now that I couldn't do when we first started and I am seeing the results.
The data is also telling the story of the progress – as you know that is critical for me! This week we did our third round of body measurements. Specifically we measure my body fat percentage and the size of my biceps. As I talked about in my post in December I had already made some big progress with these numbers. So how much more progress could I make in just 3 months? The answer: some.
In the three months since my last round of measurements my body fat percentage remains unchanged at 12%. This number probably won't decrease much more but staying the same is a big victory. My weight has ticked up a couple of pounds but my body fat percentage has not. This means that my weight is coming from another source – muscle. This conclusion was reinforced by the numbers as my biceps have increased a half inch in just 3 months. This is pretty quick growth and I am excited to see where I am 3 months from now.
Confidence Builder Run
Finally this week I had a pretty important run. As you know I have been preparing for the Cap City Half Marathon that is coming up at the end of April. While I have completed a half marathon before, I had some anxiety about my readiness for another one. This weekend that anxiety was erased by a big confidence builder.
On Saturday I went for a long, chilly run with a plan to push myself to run ten miles or so. I wanted to try out my new marathon pacing strategy where I plan to run 2 miles at about a 10-minute per mile pace followed by a half-mile walk. By adopting this approach I hope to maintain my energy and momentum and to improve my time from my first half marathon.
Instead of running 10 miles on Saturday I ran 13.1, I ran a spontaneous half marathon. I ran from German Village to Ohio State University. I ran a lap around the "horseshoe" or Ohio Stadium and I ran back via the Scioto Trail. I maintained my pacing strategy the whole way and it seemed to work well right up to mile 12. In the 12th mile I was out of gas. I was exhausted. It was a complete mental struggle to keep myself going and, especially, to keep running. But I did it, I finished and finished with a run not a walk or the crawl I felt like doing.
Before I share my results I want to reflect on my results from my first half marathon in October. Here is where I ended on that one: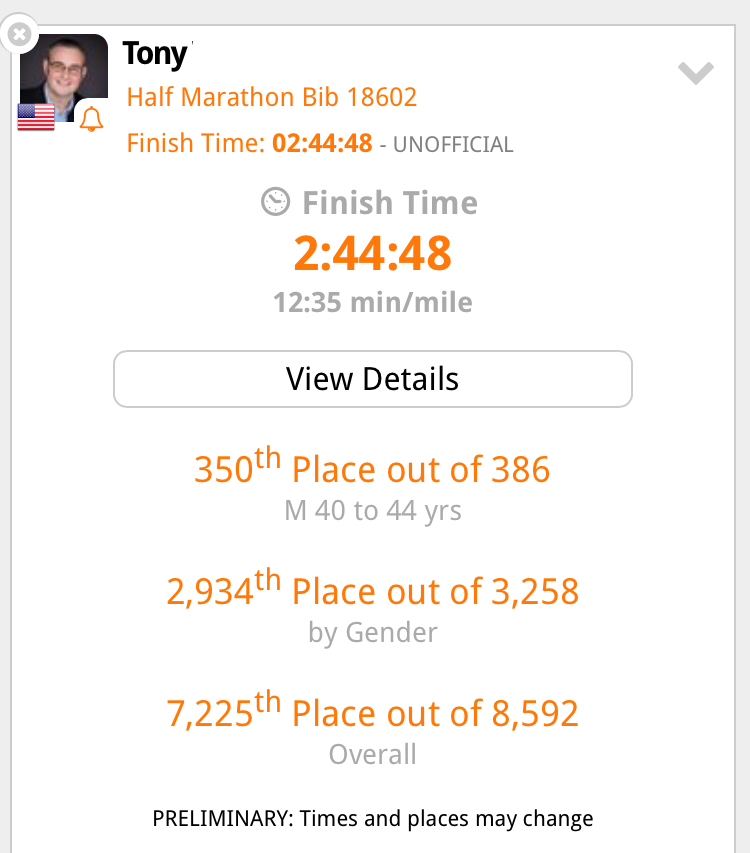 For the Cap City I set a stretch goal for myself. I want to do better than the Columbus Marathon but my stretch goal is finish in 2 hours and 30 minutes. That is a 10% improvement in my time after just a few short months and winter months at that – meaning I wasn't running outside very often.
This weekend's run was not planned to be a half marathon. I did not plan my nutrition for a long endurance run and made some bad choices the day before. I also wasn't on a closed course so I had to stop for traffic lights and such. There were also a few stops for picture-taking along the way which isn't something I do during a formal race.
So how'd I do?

I hit my stretch goal despite all of the factors that made it harder to do so. Based on this accomplishment I am completely ready for the Cap City Half Marathon and my anxiety is gone. There is nothing like a big accomplishment to boost confidence!
The only negative part of my run is that it was very rough on my body. I have more pain and exhaustion after this weekend's run than I have after any of my other runs of this length. This week is absolutely going to need to be a recovery week. That all started by feeding my recovery on Saturday by consuming 4000 calories!
Thanks for reading and stay tuned for the big announcement this week of my book!
Last week's stats (3/11-3/17):
Maintain avg. weight of 189-199 pounds: 200.1 lbs average
Run 10+ miles per week: 12 miles
Total walk/run miles: 38 miles
Weight training 2-3 times per week: 1 workout
One race per month: January & March: done. April Races: 4/7 & 4/27
Continue to track & manage calories: 2,384 calories under budget