I have written many times about how my brain works. In Gallup StrengthsFinder am high in the "achiever"so I like to have a continuous stream of accomplishments. I am also high (my top strength) in "competition" so I like measurable performance and to know that I am doing better than my competitors even if that just means me. My high achiever and high competition strengths mean that I love finish lines! And I had a couple of big finish lines this week plus I celebrated the one-year anniversary of crossing my 100-pound finish line!
Race Day and a New PR
Today was race day for me and I ran the Scioto Miles 5k with my buddy Steve.
Scioto Miles is a series of two races over 3 weeks on the Scioto Trail in downtown Columbus. You choose between a 5k, 10k or 15k distance for each race which basically translates to how many laps you run on the 5k course. I chose a 5k for both races but I may move to 10k or 15k for the second race because it is just 20 days before the half marathon.
This morning's race was very cold, started at 25 degrees when I left the house. I usually don't run my best when the temperature is under 30 so I was a bit concerned. Also the course has tons of elevation so we ran uphill a lot which is also not my favorite. But if you wait for conditions to be perfect you never leave the couch.
Right as the sun came up over the downtown buildings we were off. I tried hard to hang with the 9-minute pace group because that is pretty much my top speed for distance running and that would be faster than my personal best to-date. My best ever distance run was the Jingle Bell Run at the start of December in pouring rain .
I stuck with the pack and crossed the finish line with a new personal record… kind of. My total pace time was one second faster than in December but my total run was longer. Turns out the course was just over 5k by a few yards. But I am calling it a record.
The best part of this race is that race season is here! I had today's race, the next one on April 7, the Cap City half marathon on April 27, my Operation Melt 5k in mid-June, the Indian Lake 5k on the Lake in early July and so on. I still need to find a run in May but that isn't hard to do. At least 10 more finish lines yet to come!
My Book Crosses the Finish Line
My book, Operation Melt: How I Used Life-Changing Project Management to Lose Over 100 Pounds in Under a Year, is done!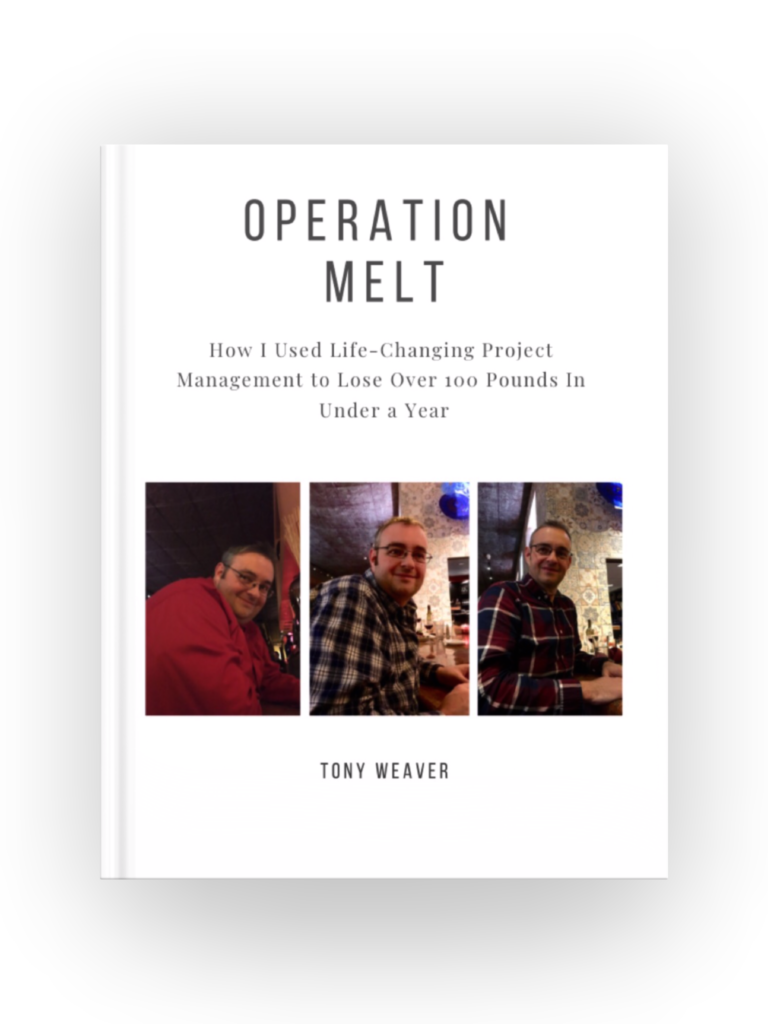 After working for the past year on planning, writing, editing and finishing the book, it is finally done. It will launch this week starting with an invitation only soft launch today.
My plan is to sell the eBook in ePub format on my OperationMelt.com website only for a few weeks. Then I will expand the eBook to both ePub and Kindle format and sell through the major eBook marketplaces (Amazon, iTunes, etc) for a few months. Later this summer I will launch a second edition in both eBook and print format. But please don't wait for the print version as it will be more expensive.
I am pretty nervous but here we go!
Data Rollercoaster
In last week's blog (link) I talked about the ups and downs of data. Well that issue continued this week. My weight remained a rollercoaster and I was often at 200 pounds, then I dropped, then I spiked and it was maddening. Oh well, that is just what happens when you are at you low weight.
Thanks for reading and stay tuned for the big announcement this week of my book!
Last week's stats (3/4-3/10):

Maintain avg. weight of 189-199 pounds: 198.8 lbs average
Run 10+ miles per week: 8.43 miles
Total walk/run miles: 33 miles
Weight training 2-3 times per week: 1 workout
One race per month: March race 3/17, April Races 4/7 & 4/27
Continue to track & manage calories: 2,039 calories under budget