This was week 127 of my Operation Melt journey that started with my goal to escape obesity and lose over 100 pounds in under a year. As you probably know I achieved that goal (in just 9 months) and then a whole lot more. I went from 325 pounds to completing my first half marathon in just 14 months with a total weight loss of over 130 pounds.
I accomplished this by applying concepts of project management and managing my transformation as a project just like I have helped businesses do for two decades.
After achieving my initial goal, and countless others, my journey of personal transformation has grown into a quest to turn myself and others into goal-crushing machines. My vision for Operation Melt is to build a world where goals don't die of loneliness.
My weekly Operation Melt blog posts are about continuing to hold myself accountable while sharing my journey with you. My hope is that something that I am doing will inspire you to try to crush your own goal, will motivate you to keep going and will equip you with some additional tools that have helped me manage my journey.
Not just physical…
My personal transformation was certainly a physical journey. I can tell you in great detail how many parts of my body have changed through this journey. For example, waist size from 52 to 36, shirt size from 3XL to large, shoe size changes, wedding ring needed resized and many more. My body is very different in many positive and some not-so-positive ways.
This journey required me to actively manage my calorie consumption versus burn. I really ramped up the exercise and got to the point where I could run and kept increasing the amount and intensity of my workouts. This ultimately led to my first half marathon.
There were struggles along the way with injuries, weight plateaus and unexpected weight gains and many others
But a transformation that includes a loss of 40% of your bodyweight over 14 months after 40 years of obesity is more than physical. I have mentioned before that this was as much, or more, a mental journey as it was a physical journey. My mind had to evolve in many different ways throughout my transformation and that wasn't easy.
For the next two weeks I am taking you inside my brain and sharing four mental struggles that I have faced, and continue to face, throughout my transformation. I say "continue to face" because these struggles are not something that just happened and I pushed past as I transformed. These are things that impact me daily and I continue to work to manage today.
Struggle #1: I am my journey…
At least two people along the way said something very impactful to me: "your weight loss is kind of your brand." This visible transformation was something that everybody who knew me saw happening and everybody wanted to talk to me about it; which I completely supported. But it became a near constant topic of conversation and became what I was known for in many circles.
My transformation didn't just become my brand it also became my focus. You may even say it has become an obsession but I wouldn't necessarily go that far.
I spend every day diligently logging all of my food and drinks consumed.
I monitor my activity through my wearable fitness tracker.
I weigh myself every day.
I carefully choose my foods based on calorie and sodium content.
I talk constantly about my journey with my wife and I know that gets tedious for her.
I post daily, usually more than once, on social media about my transformation and blog about it weekly.
Continuing to move forward in my journey and maintaining the successes that I have achieved is something that is constantly present in my mind. I sometimes struggle to focus on other things and often have at least a split focus. Sometimes my journey and its maintenance feel like a full time job.
All too often I let my journey define me. I am my journey my journey is me. This means that I can often live and die by the numbers.
I am at my low body weight which means that my weight fluctuates a lot based on sodium, alcohol and other daily activity. When I step on the scale and my weight is up my mood is negatively impacted, even if just in my mind.
If I haven't achieved my exercise goals for the day (both step count and calorie burn) I end up feeling a little stir crazy in the afternoon. I want to get outside and get moving.
If I am edging too close to my calorie target for the day I will not let myself enjoy meals because I am worried about the nutritional implications. I often experience both anxiety and regret about my nutrition choices and have to remind myself to forgive my bad choices. As I wrote in my November 26, 2017 blog Thanksgiving is often a source of food choice anxiety.
These are things that I continue to manage every day and some days are harder than others. I am definitely getting better with managing and balancing these things as I get more practice. After all this is a relatively new thing for me and I am learning.
Struggle #2: body image…
As I was progressing through my journey people were noticing the changes in my weight. They were saying things like "you are just melting away" – which was the source of the Operation Melt branding. People were super supportive because they were seeing my physical changes as I was shrinking.
But I wasn't seeing the changes in my body.
Because I see myself every day it was slow for me to actually see the changes that others were seeing so clearly. It took a long time before I saw the change. And, when I finally started seeing the changes, it was a huge shock. I would catch my reflection and not recognize myself. That is a difficult moment for somebody.
Even today, when I look at myself in a mirror, I don't immediately see myself as being all that different from where I started. I know I look different. I know I have transformed myself. I know I am much more fit. But that is all intellectual. But we see things with our eyes and process what we see through emotional filters. My emotional filters still keep me from seeing the facts that others see clearly.
This is one reason I like pictures so much because they give me a side-by-side comparison to help me see the change. It is hard to argue with a clear picture that is in front of you.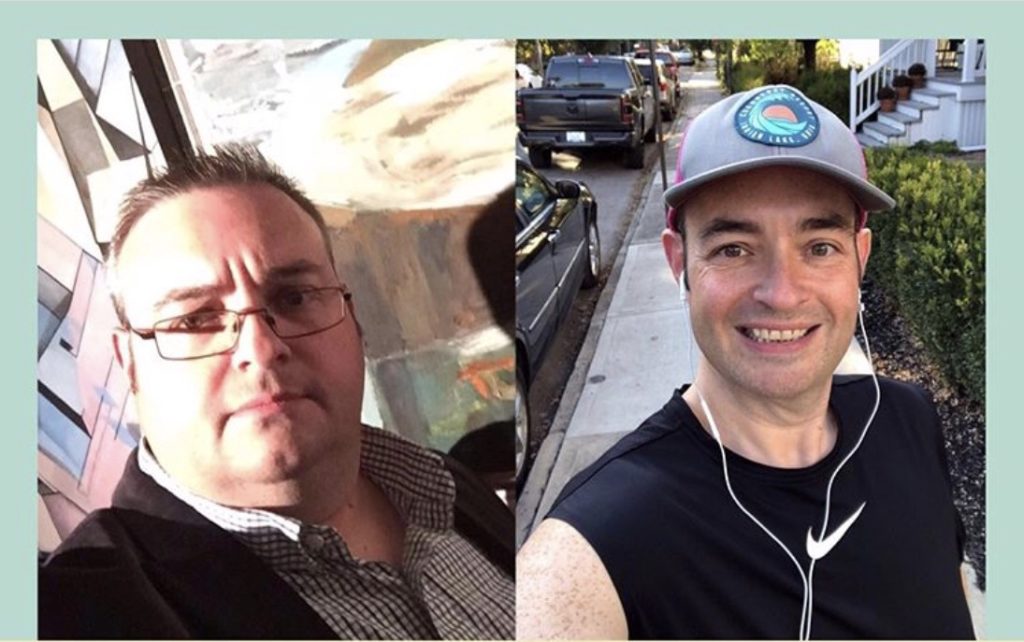 An additional body image struggle also happens when I am looking at myself in the mirror. My eyes go right to those places that I still don't like. The extra skin from my weight loss. The muscles that haven't grown to where I want them. The list goes on. I am very critical of the places where I am not where I want to be and sometimes let that cloud my happiness for the progress I have made.
Make sure to check back next week for the other two mental struggles associated with my transformation. Next week's struggles go even a little deeper into the things that have challenged me along the way.
Thanks so much for reading. I hope that my experiences and my tips can help you achieve your own big goals. If we work together we can build a world where goals never die of loneliness!