This was week 125 of my Operation Melt journey that started with my goal to escape obesity and lose over 100 pounds in under a year. As you probably know I achieved that goal (in just 9 months) and then a whole lot more. I went from 325 pounds to completing my first half marathon in just 14 months with a total weight loss of over 130 points. I accomplished this by applying concepts of project management and managing my transformation as a project just like I have helped businesses do for two decades.
Want to learn more? Grab your copy of Operation Melt: How I Used Life-Changing Project Management to Lose Over 100 Pounds in Under a Year.
After achieving my initial goal and countless others my journey of personal transformation has grown into a quest to turn myself and others into goal-crushing machines. My vision for Operation Melt is to build a world where goals don't die of loneliness.
My weekly Operation Melt blogs are about continuing to help myself accountable while sharing my journey with you. My hope is that something that I am doing will inspire you to try to crush your own goal, will motivate you to keep going and will equip you with some additional tools that have helped me manage my journey.
Running, It's What I Do!
Throughout my Operation Melt journey I turned into a runner.
I have completed 3 half marathons in about a year each with improved times. I have completed one 10k (6.2 mile) race and countless 5k (3.1 mile) races. I average one race per month throughout the year and even more in November and December where I have a race about ever other week.
I have an unbelievable collection of medals and of shirts from each of the races.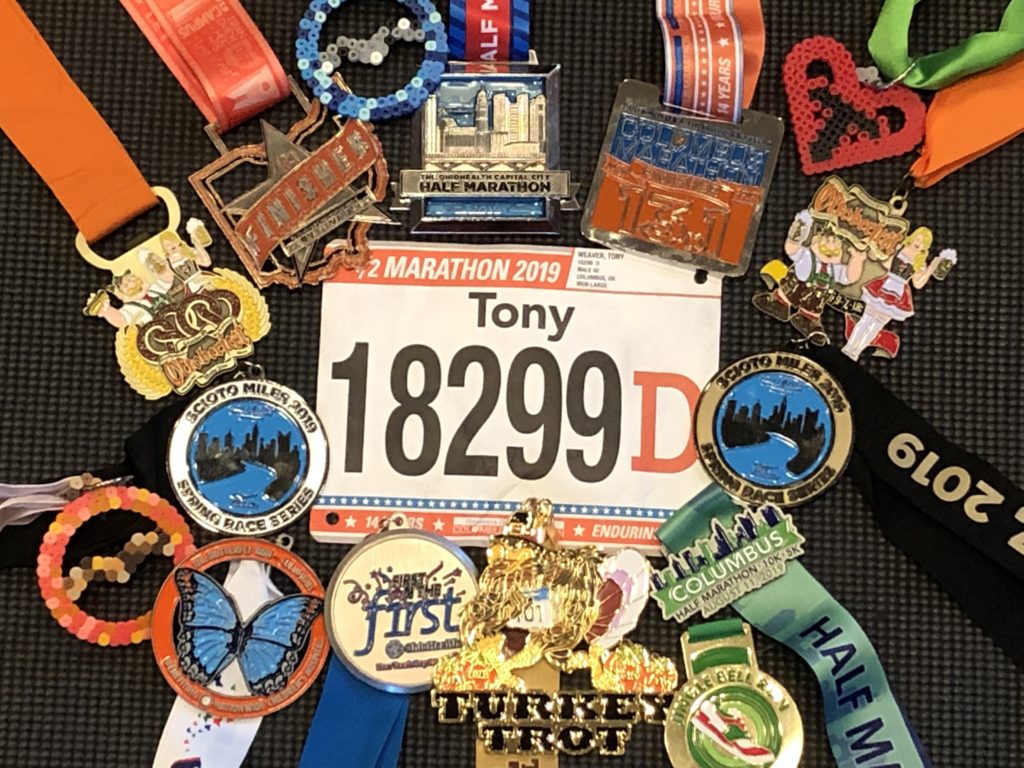 Beyond the races I also run at least once or twice per week on my own. Sometimes I run every day for a while if my schedule and the weather cooperate. Another important caveat is that I also run when my body cooperates. My continued quest for increased speed and lots of long runs also means that my body needs time to rest to avoid injury and maintain solid performance
I love to run because of the amazing workout and calorie burn that it gives me. But I also love running because it is such a great way to compete with myself. There is always room for improvement and always a next race to train for. It is a good way to set small goals and see myself make progress.
Born to Run? Not Me!
I just talked about how much I love running and how great of an experience it is. But I have not been running for very long. I didn't start running until far into my Operation Melt journey because I just wasn't at a point in my fitness journey where I could comfortably and safely run.
From the start of my fitness journey through today there is another form of exercise that is most important to me: walking.
When I first started my quest to lose over 100 pounds in under a year I knew that I needed to increase my exercise. I was getting almost no exercise and that had to change. But I was 325 pounds and jumping into some high intensity workout would have not only frustrated me but might have been an unsafe choice. My body was not in a shape to start vigorous workouts.
That's when I thought about the famous saying (perhaps a Chinese proverb) "the journey of a thousand miles begins with one step."
I started walking. Each morning I would go for a short walk before going to work. Each afternoon I would also try to do some walking after work. I wasn't doing a ton of distance. I wasn't speed walking. I was just moving.
Then I started ramping up my distance slightly. I told my boss that I was going to stop coming into the office at 7 each morning and was going to start getting there by 8:30 just like the other "normal" people were doing. Side note: this also helped with my goal of reducing work hours and stress. Instead of going straight to work in the morning I would walk about 2 miles around the part in my neighborhood.
My goal was to get exercise and it was working! Between the exercise and other smart choices I saw the weight just melt off of me. People would tell me "Tony you are just melting away!" And that was what was happening. That's where the name Operation Melt came from.
Walking, just taking one step after another, was how I got started with my weight loss.
Walk, Don't Run
Still today walking is the most important form of exercise for me.
In just the past 7 days I have run just 3 times. I had a race last Saturday, I did some treadmill interval training to help work on speed improvements on Wednesday and I ran 4 cold miles yesterday. That is a total of 9 miles that I ran in the past week.
By comparison I went for about 10 dedicated walks for exercise which totaled 27.41 total miles. I say dedicated walks because those are the ones that I tracked with my wearable fitness tracker. I have walked about 48 total miles in that past 7 days (plus 9 miles of running) so I have travelled over 56 total miles in 7 days. And this was a light week.
Walking is absolutely the most important form of exercise to me. It is easy to do. It is great entertainment as I get to explore my city, use my people-watching skills and listen to fabulous podcasts and audiobooks. Plus you just can't beat the scenery sometimes.
Walking is a great way to, literally, take steps towards your fitness goals and toward the new you.
But Wait, There's More
Before wrapping up I want to talk about one more way that walking helps us. Walking is a metaphor for all forms of transformation and all projects in our lives.
How does walking work? You take a step. Then another. Then another.
You don't need to know the full path you are going to follow when you start walking. Just take a step. As you make progress you can decide which twists and turns to take to get to your ultimate destination. But you have to keep moving. Just keep taking those steps forward.
As I look back through the important transformations in my life they all happened by taking one step at a time. Escaping poverty and graduating college not knowing if I could do it. Building a solid career doing things I am good at in a world being disrupted by technology. Turning my most important friendship into a successful, happy marriage for 18 years. Deciding to transform myself from 325 pounds to a fit athlete.
Each of these transformations, and countless others, all started with taking that first step. Putting one foot in front of the other and moving. Then doing it over and over again until I achieved my goal.
Why is walking important to me? It is how life is lived. It is how goals are achieved. It is how we transform ourselves. And it is how we build the lives of our dreams.
Thanks so much for reading. I hope that my experiences and my tips can help you achieve your own big goals. If we work together we can build a world where goals never die of loneliness!