Reflections on Leadership is my weekly article series reflecting on what it means to be a great leader. I hope that these thoughts can help you with your own leadership development journey.
My mission for Operation Melt is to help you melt away all of the obstacles to achieving your goals, not just your fitness goals. So, helping us all become better leaders is fully aligned with that mission. Maybe this will help achieve the Operation Melt vision…
To create a world where goals never die of loneliness.
Weekly Inspiration
Leaders Create Wins
We all have bad days or days where things don't go the way we hope. Recently I went through a few days where it felt like nothing was going right for me. I had some setbacks at work that caused me to question myself. Some of my personal goals hit a rough patch and weren't making the progress that I had expected. And, without getting overly specific and boring you, I just couldn't seem to get a win.
For somebody as goal-oriented as me and who measures his own performance daily this is not the most motivating or satisfying situation.
One night after dinner I decided that I wanted to take my mind off the situation. I turned on a podcast and started tearing out an overgrown bush in my back yard. This bush has annoyed me for years and I was planning to call in a professional this summer. But I decided to tackle some of it myself.
About 90 minutes later most of the bush was gone and converted into 8 bundles of sticks and 2 bags of brush and the yard was clean.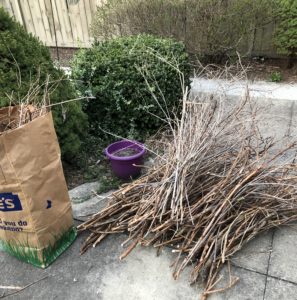 When I looked at the results I felt pretty good. I felt so productive and it makes me dread that area of my backyard a little less.
This situation got me thinking about leadership…. Great leaders create wins.
The best leaders look for opportunities position their team members for success. They help break bigger projects into smaller efforts that can be completed and celebrated along the way. They look for quick wins within longer term initiatives. They also give their team members opportunities to succeed in side projects.
I discuss the motivational value of wins in my book: Operation Melt: How I Used Life-Changing Project Management to Lose Over 100 Pounds in Under a Year. One of the ten lessons I learned through my transformation journey is that nothing motivates more than results. Here is an excerpt from the book that describes this situation.
I think of my motivation like a success snowball. I work hard and start seeing results. The results make me happy and make me work even harder. This harder work produces bigger results. Then the process repeats itself until I am unstoppable. This is a big part of how I hit my goal in nine months instead of the year that I set out to achieve.
Call to Action: help your team experience the success snowball! Provide opportunities for incremental wins as often as you can. Then celebrate the wins to help keep everybody motivated and optimistic about their progress. Just make sure that the wins are authentic and not staged because honesty is a prerequisite to great leadership.
Thank you for reading and please feel free to share your perspective on this topic, my Reflections on Leadership series or anything else via a share on social media or message me directly.
Learn more about why I share what I share at https://OperationMelt.com/why/
Learn more about my book at https://OperationMelt.com/book/
Join my email list at https://OperationMelt.com/mail/