This was week 129 of my Operation Melt journey that started with my goal to escape obesity and lose over 100 pounds in under a year. As you probably know I achieved that goal (in just 9 months) and then a whole lot more. I went from 325 pounds to completing my first half marathon in just 14 months with a total weight loss of over 130 pounds.
I accomplished this by applying concepts of project management and managing my transformation as a project just like I have helped businesses do for two decades.
After achieving my initial goal, and countless others, my journey of personal transformation has grown into a quest to turn myself and others into goal-crushing machines. My vision for Operation Melt is to build a world where goals don't die of loneliness.
My weekly Operation Melt blog posts are about continuing to hold myself accountable while sharing my journey with you. My hope is that something that I am doing will inspire you to try to crush your own goal, will motivate you to keep going and will equip you with some additional tools that have helped me manage my journey.
I can't believe it's over…
Endings are sad sometimes. This is especially true when you get to the end of something you never expected to like but ended up loving. But that is what happened this week.
On Saturday I ran the Columbus Jingle Bell Run. This is a Christmas themed 5k run in downtown Columbus to benefit the Arthritis Foundation. The weather was chilly but perfect for a holiday run. I ran the race in a Santa sweater. And I finished the race with a pace time of 8:34 per mile compared to last year when my pace was 9:00 per mile – my personal record at the time.
At the finish line for the Jingle Bell Run is free pizza and a free Jim Beam cocktail. So it isn't the best run for burning calories but I knew that and made sure to balance it all properly.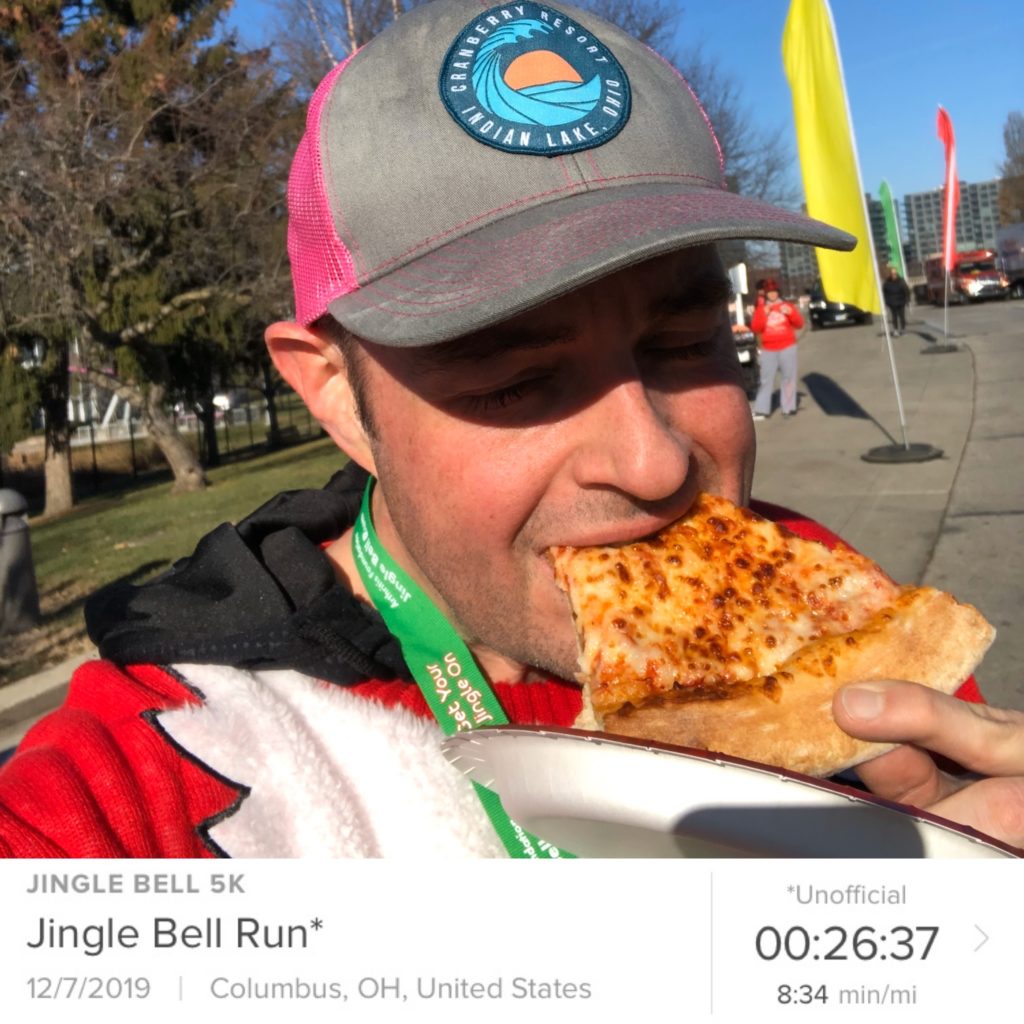 The race was a good time but I have to admit I was a little sad when it was over. The sadness was because this was my last race of 2019. Race season is over.
My goal for the year was to run once race per month and this weekend was the 13th organized race of the year so I exceeded my goal. So I exceeded my goal. Plus my time got better and better and I set and broke multiple personal records.
Recapping my race year, which was over 65 total miles, here are my best times:
5k: The Great Pumpkin Run (11/2), 26:01 time, 8:23 pace
10k: Scioto Miles (4/7), 1:02:49 time, 10:07 pace
Half Marathon: Columbus Marathon (10/20), 2:17:38 time, 10:30 pace
Every one of those times are big improvements from where I started the year and I feel very comfortable with my performance. Plus I had a great time in my 13 races. It was a great year of racing. That is why I am a little sad that it is over.
Can't I just run for free?
One question I get asked a lot is why I would pay to run in races when I can run any day I want for free. It just isn't the same.
The energy of a crowd of athletes getting ready to perform is amazing. These races are so motivational and I feel like I can do anything. As a result my performance is way better during races than when I run on my own.
Picture this… almost twenty thousand people getting ready to start the Columbus Marathon. Most of these runners are athletes who have trained for this moment for months. The sun is just coming up over downtown Columbus. The national anthem is over, the fireworks have been set off. AC/DC's Thunderstruck is being played to pump up the crowd and you feel the bass rattle your chest as you prepare to run 13 miles through the streets of Columbus.
You spend 2 hours running through multiple neighborhoods. There are thousands of random people lining the streets cheering you on and holding up signs to entertain and motivate you. And you are just a stranger that they are wishing well.
Then you cross the finish line and realize that you have just accomplished something big and that you exceeded your own expectations about how fast you could run. Then you spend time in a place called Celebration Village and watching other people celebrate accomplishing the same thing. Then you hear a runner on the phone, through tears of joy, saying "mom, I just qualified for Boston!" It is a little overwhelming and enough to bring you to tears yourself.
That experience is something that you can't get when running alone. That experience is worth $150 or whatever the half marathon costs.
Thanks so much for reading. I hope that my experiences and my tips can help you achieve your own big goals. If we work together we can build a world where goals never die of loneliness!