Some of you have asked me to share some of my go-to foods that I have used to fuel my body along the way. So, I am going to start sharing some of them along the way. I can't commit to a regular cadence of recipe posts, but I will do it as often as I can and will try to share pictures too in order to help you recreate my recipes.
Banana Protein Snack
I have struggled to figure out a good breakfast to eat before I go running. I want something with a little protein, some carbs and low calories so my body has some fuel to keep going. That is how I developed my easy banana protein snacks. I have been eating these pre-run (about 30-60 minutes before) with a glass of water and cup of coffee and they haven't let me down.
These are so SUPER easy to make… just 3 ingredients: banana, peanut butter, honey. I almost feel like I am cheating by calling this a recipe!
Nutrition Information
With the 3 basic ingredients, these snacks are pretty packed with nutrition.
The total calories will vary based on your peanut butter of choice but you are generally looking at around 160 total calories following this recipe. With these calories come the following key macros:
• Protein: 2.9g
• Carbs: 31g
• Fiber: 3.1g
• Sodium: 39mg
How to Make It
Start by adding a teaspoon or teaspoon and a half of your favorite peanut butter into a bowl. I usually just use the grocery store brand but you can absolutely upgrade to organic or even select a different nut butter.
Next up, add a teaspoon or so of honey to your peanut butter in your bowl. I tend to look for a good locally sourced honey because it tastes better, it has more beneficial stuff (very technical!) in it and it helps support local business. I am in love with Nina's Honey which is produced a couple of blocks away from my house by an urban beekeeper.
Next, stir together the honey and peanut butter until well blended and semi-whipped.
Find a delicious banana, any good ripe banana will do but you can certainly go high end here or just use the grocery store brands.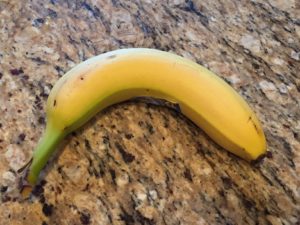 Break the banana into pieces and slather the peanut butter and honey mix onto the banana and enjoy. It is just that simple!
Suggested Upgrades
I have not tried any upgrades to this recipe yet. I have intentionally tried to keep it simple so my body is able to easily process it when running. But I would imagine that some ground flax seeds would work well in it too.