Thank you for reading this week's Operation Melt update.
Operation Melt started as a blog to share my personal transformation and weight loss story. After achieving success with that goal, Operation Melt has evolved into a platform to help inspire, motivate and equip people to achieve their own personal and professional goals so they can live their best lives.
I am trying to build a world where no goal ever dies of loneliness.
Again this week, today's post isn't part of any of my normal series of topics. Today's post is just something I feel like I owe my readers as part of my quest to be honest, transparent and vulnerable with you.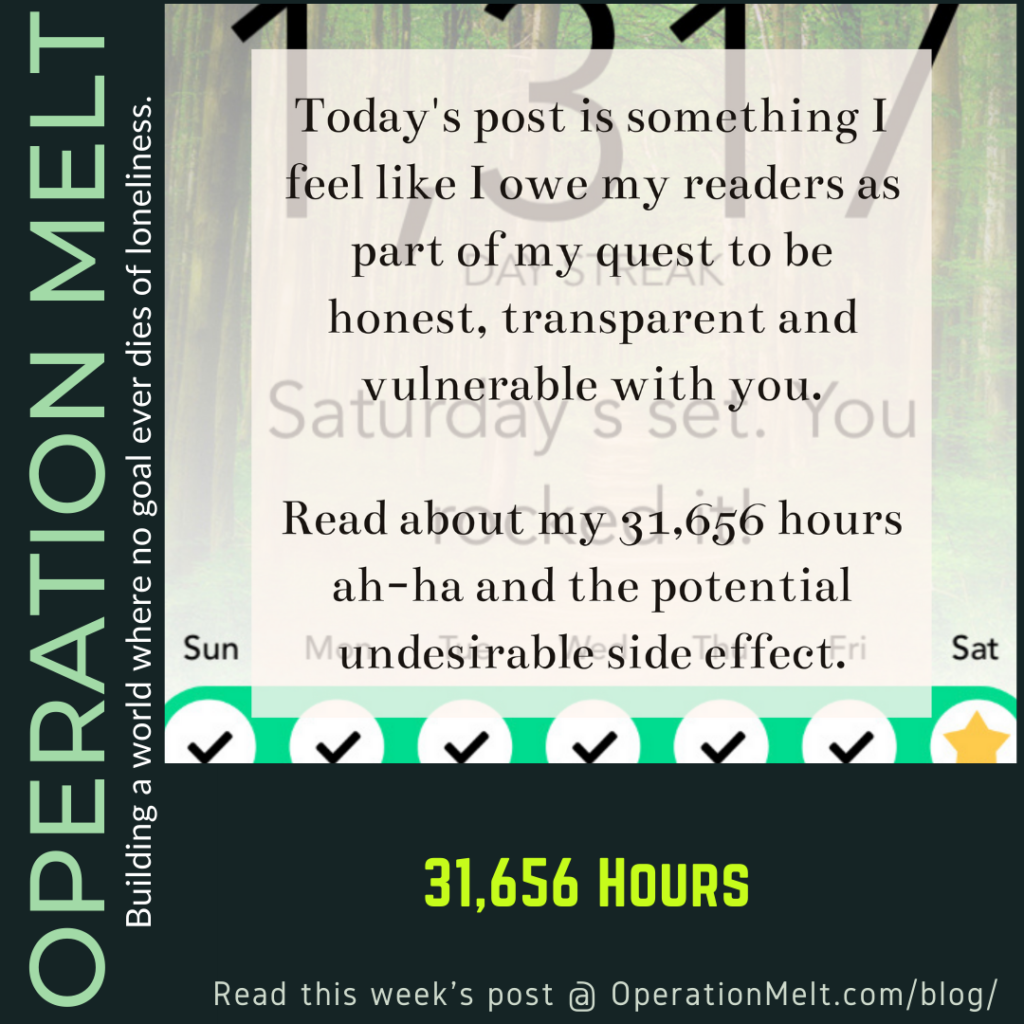 ---
Winter Laziness
This week I became aware of an evolving problem I am facing: I'm getting lazy this winter.
I will grant you that my "laziness" looks different than many other people.
I still average just under ten miles of walking/running per day or between 16,000 and 20,000 steps. I still run about ten miles per week. I go to the gym once a week to work with my trainer and strive for at least one other trip. I log over one thousand calories per day of dedicated exercise whether walking, running or lifting.
My "laziness" takes a little different form, I am not pushing myself. I am not achieving twenty miles of running per week with consistently improving times. I am not significantly ramping up my weight lifting to the point of failure in each session. I am simply not putting the intensity in my workouts that I think I should (see my post about "shoulding" on yourself) be putting in.
I am definitely NOT leaving it all on the field!
Beyond the lower intensity in my workouts, I am also not putting the work into Operation Melt that I want to be putting in so that I deliver as much high-value content as I want to deliver every week. I am falling asleep earlier and hitting the snooze button more in the mornings (I am averaging around seven hours of sleep per day).
Plus, as I mentioned in my Happy New Year post, I am not setting any big goals for this year that I am pursuing. My focus for 2021 is to stay focused on my daily practice instead of the hyper-focus on the results.
I assumed that all of this is just related to being in wintertime, less sunlight, more cold and so on. I was discussing this with my trainer (who is also a friend) this week and she pointed out that it may be something more.
31,656 Hours
As of this morning when I closed out yesterday's food log, I have consistently tracked my food and drink consumption for 1,317 days. This made me think about a few other facts about my journey:
I have used a personal fitness tracker for 1,306 days.
I have been a member of my gym for 1,195 days and have had a personal trainer for 1,040 days.
I have been a runner for 1,239 days, ran my first race 953 days ago and my first half marathon 826 days ago.
It has been 1,048 days since I achieved my 100-pound weight loss goal and 745 days since I reached my lowest weight (131 pounds lost). It has been 390 days since I transitioned into a pseudo "maintenance" mode and, unfortunately, 334 days since I was last under 200 pounds.
I have been publishing weekly blogs for 1,136 days and published my book 662 days ago.
Partially unrelated, but very much related at the same time, it has been 1,090 days since I left my job of ten years and lost some of the predictability that brings with it career-wise.
In summary, I have been on my journey of transformation for 31,656 hours.
Nearly every one of those hours has involved collecting data about my health, decisions and performance. All of the waking hours have been filled with interpreting and analyzing that data. That interpretation leading to being focused on making good choices about food and exercise. I have been all-consumed with setting goals, making plans, tracking progress and fretting about the daily ups and downs.
Very few of my 31.656 hours have been spent just being me without having some thoughts about my journey, what I am consuming, what I am burning, how my health is performing, telling my story or some other related thought.
Burnout?
My trainer suggested that my winter laziness may actually be a symptom of burnout.
Burnout is a state of emotional, physical, and mental exhaustion caused by excessive and prolonged stress. It occurs when you feel overwhelmed, emotionally drained, and unable to meet constant demands. As the stress continues, you begin to lose the interest and motivation that led you to take on a certain role in the first place. (Source: HelpGuide.org)
I have spent so much time focused on things related to my fitness journey that I may be slightly exhausted from it.
Combine this with other things going on in my life and the world around me and maybe this is part of the source of the distractions that I talked about last week.
Could this be what is happening? Could I be suffering from transformation journey burnout?
I don't really have a conclusion to this post just yet – sorry if that is disappointing. But I am going to be on the lookout and do some soul searching to try to figure it out.
In the meantime, I am going to rely on what helped me be so successful in my journey so far, exercise. I am going to try ramping up the intensity a bit to see if a little dopamine and some endorphins can help chase away my winter laziness.
I Need Your Help
Before you go I would like to ask you for a favor. I can't build a world where no goal ever dies of loneliness on my own. Please consider helping your friends find today's post by following me on Facebook, on LinkedIn or via Instagram and sharing today's post to your feed.
While you are at it, I'd love to hear your thoughts on today's post, your goals or anything else on your mind. Send me a note via my Contact Me form,
Thanks again for reading today's post and here's to achieving your most important goals!
Sign Up
Want these updates delivered straight to your inbox? Sign-up below: