This was week 132 of my Operation Melt journey that started with my goal to escape obesity and lose over 100 pounds in under a year. As you probably know I achieved that goal (in just 9 months) and then a whole lot more. I went from 325 pounds to completing my first half marathon in just 14 months with a total weight loss of over 130 pounds.
I accomplished this by applying concepts of project management and managing my transformation as a project just like I have helped businesses do for two decades.
After achieving my initial goal, and countless others, my journey of personal transformation has grown into a quest to turn myself and others into goal-crushing machines. My vision for Operation Melt is to build a world where goals don't die of loneliness.
My weekly Operation Melt blog posts are about continuing to hold myself accountable while sharing my journey with you. My hope is that something that I am doing will inspire you to try to crush your own goal, will motivate you to keep going and will equip you with some additional tools that have helped me manage my journey.
3… 2… 1… end of a decade
This is my last post of this year and my last post of the decade. By the time I write and post my next update we will be a couple of days into 2020.
I don't know about you but the 2010s were a decade of serious change for me. I had lots of jobs across 3 companies. I had a layoff. I lost a parent. I moved to a new house and sold our first house. I both gained and lost friends. Liz and I both turned 40. And the list goes on.
Perhaps my biggest change in the 2010s came 925 days ago when I decided I was going to lost over 100 pounds in under a year. I decided to conquer one of my biggest areas of failure in my life and one of my biggest frustrations and embarrassments.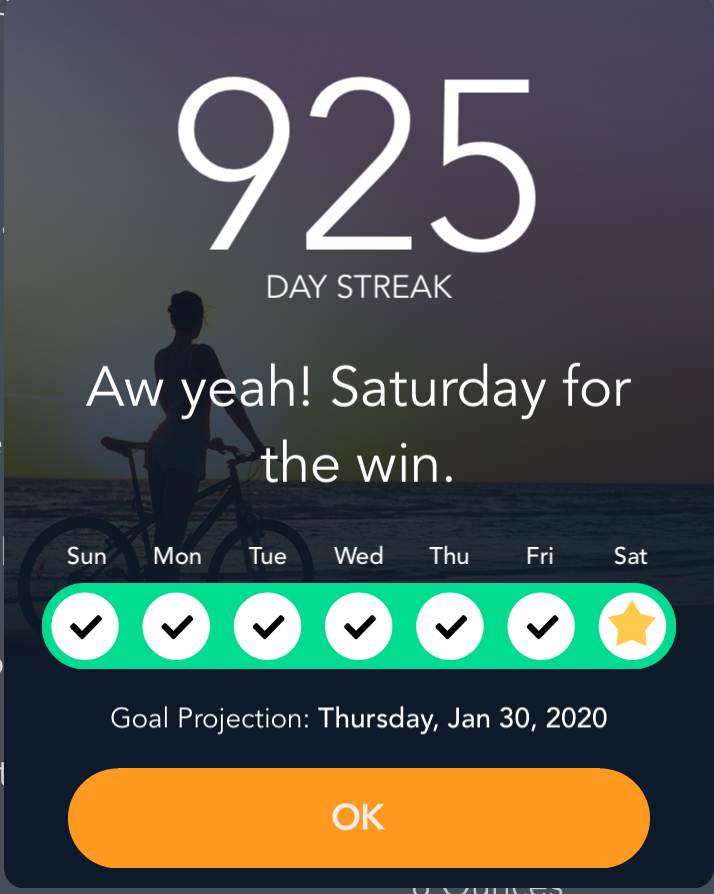 With all of this reflecting on the decade I was struggling to figure out how to wrap up this year in today's post and move onto the next. Like many other facets of my life, when I don't know how to get moving, I have decided to turn to project management. I am going to share my 2019 Operation Melt retrospective.
In project management a retrospective is an exercise that a project team engages in to reflect on what is working and what isn't. It usually happens at the conclusion of a phase or stage of a project and at the conclusion of the project itself; though it can happen at any time. They take many forms but the way I usually lead mine is that I ask the team to brainstorm their feedback about the project to-date around 4 dimensions:
Smiles: what went well that we would like to continue or do again in the future?
Frowns: what hasn't gone well that we would like to change in the future?
Lightbulbs: what ideas do we have for the future that might improve our process or results?
Flowers: who do we want to pause and appreciate?
Once the brainstorming is complete we group feedback into themes and prioritize our top 3-5 items in each category to report out. These 3-5 items become the basis for how we approach the next phase, stage or project.
I have applied this process to reflecting on my past year of my Operation Melt journey and want to share my results with you.
Smiles
1. Commitment: my commitment to my journey was unwavering in 2019. I continued to track my data, logged everything I ate/drank, recorded all exercise, analyzed performance and made adjustments when needed.
2. Weight: I essentially maintained my weight loss. While I didn't lose more weight (as planned) I also didn't gain much weight either (see the associated frown). I am approaching 2 years since I lost my first 100 pounds and have past 1 year since I hit my low weight. I am particularly happy with being able to maintain the results after I learned the stat that most people who have experienced significant weight loss gain it all back within 2 years. Not me, boom!
3. Performance: I continue to improve my performance as an athlete. I ran 13 organized races in 2019 including 2 half marathons and improved my time significantly. I am very proud of the improvements in my running performance and I am kind of a beast. Plus my performance in the gym has increased too. After starting the year at a 70-pound maximum bench press strength I was able to increase to easily doing 110 to 120 pounds at the end of the year.
4. Body Image: my body continues to improve shape and tone and I continue to become increasingly comfortable with it. I don't cringe when I see myself naked in the mirror though I do see the areas that still need work. I am happy to see my muscles grow and get firm and enjoy that I have stabilized in clothes sizing.
5. Operation Melt: I launched my book this year and sold a modest number of copies including to people who aren't just friends and family. I continue to tell my story through my blog and through social media. And I know I am having a positive impact on people. I am showing them that they can achieve their goals if they just try and that the journey doesn't have to suck.
6. New Job: so I tried to limit to 3-5 items but I needed a 6th. I took on a new job this year as a consulting project manager and my first client is OhioHealth. This means I get to use my project management skills to help improve the health of those that OhioHealth serves. This literally lets me combine my passions and make an impact. Plus I really like my consulting firm, TOP Consulting!
Frowns
1. Too much? Sometimes I feel like I am too focused on my journey, my sharing, logging everything, photographing my life, talking about my weight loss, getting anxiety if I haven't exercised, fretting about going over my calories and so on. It is still a little all-encompassing and I feel like I am a little annoying and monotonous to those around me. Plus I am letting my mood and view of myself get dictated too much by the numbers.
2. Weight Struggles: I kicked off 2019 by switching to "maintenance mode" from a calorie and weight loss perspective. Then I gained weight. I learned that I am under-estimating my portion sizes and the calories and I need to keep myself in "weight loss" mode to account for the under-estimation. I was able to reverse the issue and maintained strong in the 199-204 range for most of the year. Yes that is up from my 194 low weight but I have also seen significant muscle growth that comes with weight. I know I am at my low manageable weight too because I see HUGE swings from day to day based on sodium, carb and alcohol consumption. In fact I went from 203 pounds at the start of Christmas week to 207 at the end of the week despite having a net calorie deficit every day. This is just how my body reacts. It isn't "real" weight it is just water retention but it is "real" frustrating.
3. Pain: I learned this year that pain accompanies increasing athletic performance. I often find little aches and pains that pop up after runs or workouts. I have persistent issues that come and go too with one of my toes and hip pain. A lot of this is related to not properly recovering, warming up, resting and stretching to accompany my performance.
4. Reach & Impact: while I know that people are reading my blog, following me on social media and are buying my book I don't know that I am having the full reach and impact that I want to have. I need to find ways to maximize the value I am providing to my readers.
Lightbulbs
1. Sustainability: I want to use 2020 to explore a more sustainable approach to my fitness journey versus allowing it to be all encompassing. I am not sure what form this will take but it will certainly include NOT weighing myself everyday but moving to 2-3 times per week. I need to look for other ways to strike that balance.
2. Deliberate: also in 2020 I want to start working to be more deliberate about how I perform in areas of my life. This will include actually defining a training plan for myself for running to strategically improve performance. This will include defining a true recovery plan after runs and workouts. Plus I will work to apply this outside of my fitness life and work to be more deliberate and planful in other areas of my life including at work.
3. Experiment: I want to experiment more in 2020 with how I approach my blog and social media presence in hopes to make them more impactful and easier to manage. I'd like to see my social followers increase and become more interactive. I'd like to work on trying to conduct a couple of meetups / events to help people with their goals. I would also like to convert one of my many book ideas into reality even if that just means launching another eBook.
4. What's Next? I also want to start thinking about what my next big goal is that I want to achieve in my life. The others have been pretty rewarding and I have defeated poverty, obesity and mediocrity so far and am ready for the next.
Flowers
I have so many areas of appreciation that it is hard to limit, but here goes.
1. My wife Liz. Liz has always been my biggest supporter in life and that continues with my fitness journey. She is the one who gets to hear me talk about it every day and has got to be tired of it but continues to listen. She is my editor in many ways including editing my book but also listening to my half-brained ideas and helps make them better. I love her and don't know what I would do without her.
2. My team of experts. I continue to be super appreciative of the experts who help me with my journey. Starting with my trainer, and now friend, Teresa who helps me achieve new levels of performance while being a huge supporter and advocate for me. Then there is my doctor Charlie who helps me be safe and is a good reality check for me when needed. Plus my team of experts includes all of those people who give advice, tips, tricks and insight on how to improve my running and lifting performance and such. Finally my experts include the countless servers and bartenders who help me tailor my restaurant choices to fit my fitness needs "how big is the portion size", "how is that prepared", "what other options do you have for sides", "can you leave the xyz off that", "can I do a half portion" and the countless other special requests that have been honored for me are appreciated beyond belief!
3. My supporters. I really appreciate all of those people who say kind words of support to me and those who stay interested and curious about my journey. I can't tell you how much it continues to motivate me to have people say things like "I am so proud of you" and "wow, you are looking great" and "how was your race this weekend" and other such things even when I know they are sometimes just being nice. One friend and coworker, Deanna, has been particularly supportive and I can't thank her enough.
4. My readers, followers and those I have helped. I appreciate all of the people who read my writing (my book, blogs, etc.) and follow me on social media particularly those who interact to let me know that what I am producing matters to you. I am especially appreciative of those of you who I have inspired to start your own journey or that I have helped achieve your goals along the way. I am honored that something I have said, done or shared has been beneficial to you.
There you have it! This is my 2019 year-in-review retrospective. As I look toward 2020 I am excited for another year of wins, struggles, learning and transformation. Just think where we will all be at the end of the next decade!
Thanks so much for reading. I hope that my experiences and my tips can help you achieve your own big goals. If we work together we can build a world where goals never die of loneliness!