March is here and that means that there are more opportunities to go outside to pursue my fitness goals. I am starting to ramp up my exercise after a little more after being a little lazy in the cold months. Don't get me wrong, when I say I have been a "little lazy" that is still a pretty active lifestyle and not just couch time.
Marathon Prep
I am running in the OhioHealth Capital City Half Marathon on April 27. That is less than 60 days away and I have been working on ramping up my training.
Last week I did my longest ever contiguous run at 8 total miles and 7 of them running. This week I ramped up the mileage a bit more and did a Sunday long run of more at more than 9 miles with the majority of those being running miles.
I love long runs through downtown Columbus because I get to see great views of the city and explore along the way.
Over the coming weeks I need to continue ramping up the mileage until I hit a full 13.1 miles by early April. Right after that I will start to taper the distance and end with at least one rest week before the race.
I have completed one half marathon already but that doesn't make me any less nervous preparing for my second one.
Arnold 2019
This week I went to the Arnold Sports Festival in Columbus despite saying last year that I probably wouldn't go back because of the size of the crowd. This festival salutes sports and fitness in all forms but is heavily geared towards weight lifting and similar pursuits. It is a very popular festival, almost too much so, and I felt like there were about a million people there at the same time as me.
While at the festival I walked the expo floor to check out equipment, methods and supplements that people were selling. I watched some competitions such as CrossFit Endeavor, Spartan Dash Obstacle Course, Ninja Warrior Course, power lifting and even pole fitness. Plus I had a chance to watch the end of one of the rounds of the women's physique competition.
I attend this festival as inspiration and motivation to do better and to set bigger goals. But one other thing started becoming clear this year – I need to decide what kind of body I want. Some of the super weight-lifter guys are huge masses of humanity and I don't want that. That said, I do want to have an impressive body that visibly reflects my hard work. Tone and a little bulk are great but massive bulk is not for me.
One thing attending the festival did do was to push me to get a pretty tough workout in the morning after the festival. I was waiting outside the gym when they opened and pushed myself pretty hard despite having a limited amount of time. Then I pushed myself even further with a coffee walk after I finished my breakfast meeting.
Bad Judge of My Own Progress
One last topic for this week is about judging our own progress. When I look in a mirror I don't see a thin guy and I really still see that big guy who looked back at me for 40 years. The progress just happened so gradually that it wasn't like I woke up one morning and was "thin," it happened over a year. It takes a while for your brain to adjust to your new body. So I am a terrible judge of my own progress.
Every once in a while something happens that really shocks me. Over the past couple of weeks these shocks have come on the form of pictures. Several pictures of me have been posted by other people as we have been participating in our annual Pub Golf Tournament. Here is an example of a couple of those.
When I see these pictures I am absolutely shocked – and not just because of the funny faces! The guy in these pictures, particularly the one of the left, is not the guy I see when I look in the mirror. I don't know how long it is going to take to get to the point where I know I am this guy but I am not there yet.
My Book
I almost forgot… I went public about my book this week.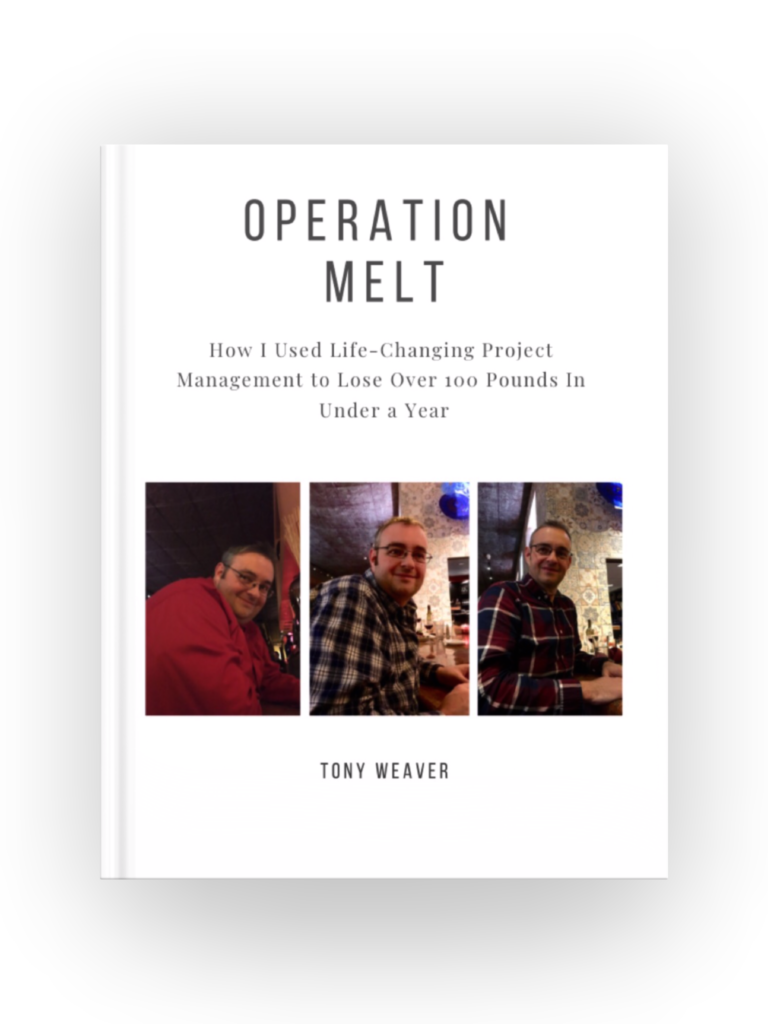 In just a few weeks I will be releasing the book that tells my story and shares my approach. The book is called Operation Melt: How I Used Life-Changing Project Management to Lose Over 100 Pounds in Under a Year. If you want to be the first to hear updates including when the book is released please join my email list.
Thanks for reading!
Last week's stats (2/18-2/24):

Maintain avg. weight of 189-199 pounds: 199.8 lbs average
Run 10+ miles per week: 15 miles
Total walk/run miles: 41 miles
Weight training 2-3 times per week: 2 workouts
Yoga 1+ times per week: none
One race per month: no February race, March race planned
Continue to track & manage calories: 2,898 calories under budget