Weekly Inspiration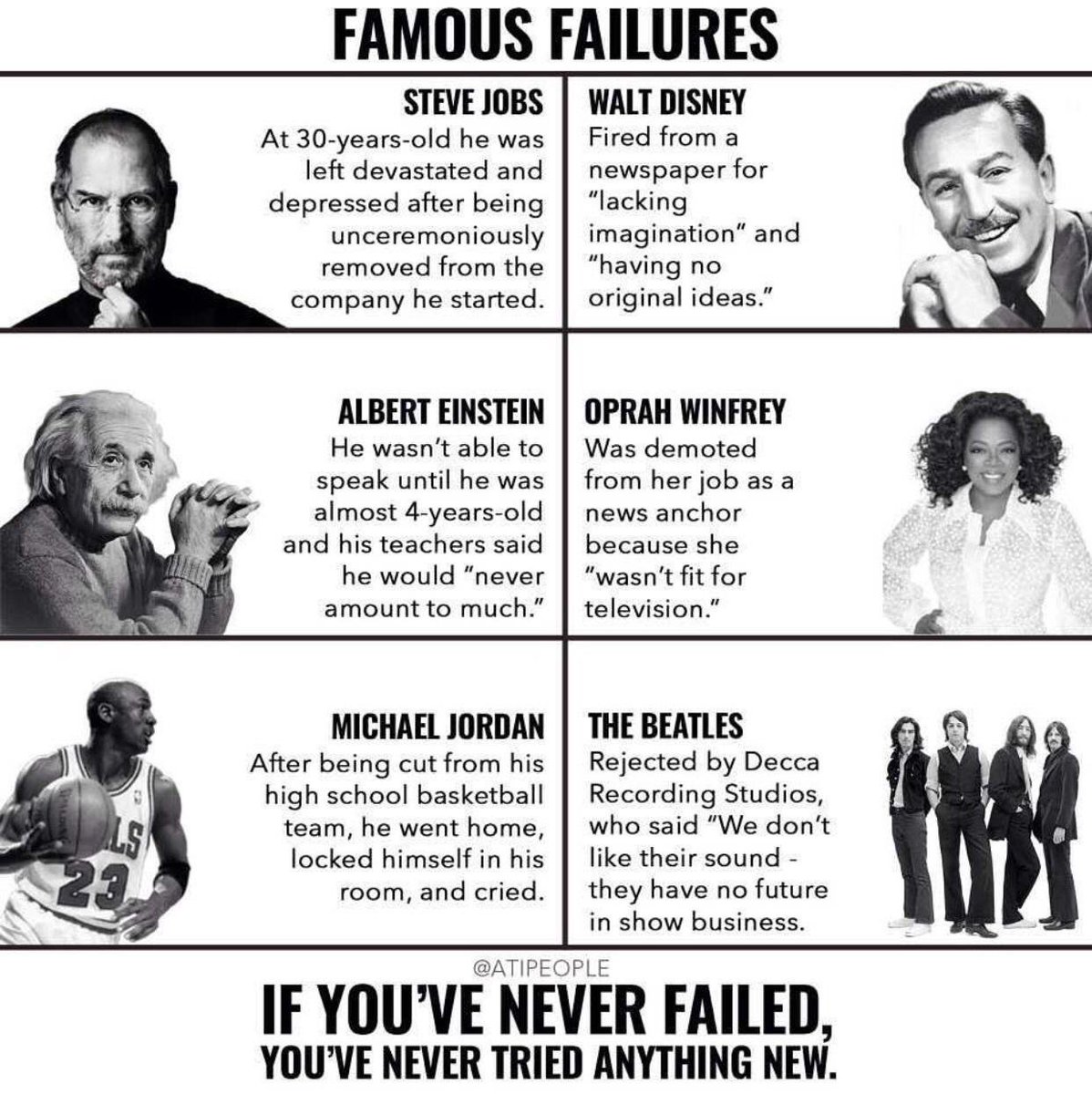 Leaders Fail Forward
Throughout the month of February I have been sharing inspirational quotes and thoughts about the topic of failure. Failure is a difficult concept to see inspirationally but it is an important topic. It is often misunderstood.
Let's start with a little secret: leaders fail.
In our social media fueled world it is easy to get caught up in the highlight reels of peoples lives. But that just isn't accurate. People have setbacks, they have bad days and they have failures just like they have successes. Failure is a fact of life even if people aren't bragging about it on Instagram.
Leaders look at failure a bit differently. Yes, they hate to fail. Nobody likes to fail. So don't get me wrong that failure feels good because it doesn't.
That said great leaders know that failure is a critical part of success.
There are countless of sources that have explained why failure is important to success. But two of my favorites are:
"I have not failed. I've just found 10,000 ways that won't work." Thomas A. Edison
"Failure is simply the opportunity to begin again, this time more intelligently." Henry Ford
I like these two quotes because they demonstrate a crucial fact about failure. Every failure is a step closer to success. You learn what doesn't work. You have more information available to plan your next steps. The act of failing today makes your probability of success greater tomorrow. It is called failing forward!
I have failed many times. But every one of those failures equipped me to try a new path and my end result was better than it would have been otherwise.
The beneficial aspect of failure leading to bigger successes is why I have dubbed this month Fail Forward February.
One last point: failure is a critical requirement for innovation. If you don't believe me, just listen to Albert Einstein – who was definitely an innovator:
If you've never failed, you've never tried anything new
Call to Action: do your best to succeed every day. But when, not if, you fail spend some time reflecting on the lessons in that failure. Take those lessons and apply them to the next iteration of your plan!
About Reflections on Leadership
Reflections on Leadership is my weekly article series reflecting on what it means to be a great leader. I hope that these thoughts can help you with your own leadership development journey.
My goal for Operation Melt is to help you melt away all the obstacles to achieving your goals. Helping you become a better leader is fully aligned with that mission. Maybe this will help achieve the Operation Melt vision…
To create a world where goals never die of loneliness.
Thank you for reading and please feel free to share your perspective on this topic, my Reflections on Leadership series or anything else via a share on social media or message me directly.
Join my email list to have weekly Operation Melt updates delivered to your inbox: https://OperationMelt.com/mail/