Weekly Inspiration
Leaders Try New Things
This week I am wrapping up my #FailForwardFebruary series. February is the month where the most goals made at the beginning of the year fail. While failure can be disappointing it doesn't have to be that way. Through daily inspirational posts I attempted to change the conversation about failure. I want people to see failure as a critical step towards success. Every failure is one step closer to success … I think of it it as failing forward!
As I was reflecting on this past month I started thinking about all of the leaders who weren't afraid to try new things despite the risk of failure. There are countless leaders who decided to get past their fear and just try. It made me think about a Shakira song that I frequently hear when running and working out called Try Everything. Just read these lyrics from the chorus:
Birds don't just fly, they fall down and get up
Nobody learns without getting it wrong
I won't give up, no I won't give in
Til I reach the end and then I'll start again
No I won't leave, I wanna try everything
I wanna try even though I could fail
I won't give up, no I won't give in
Til I reach the end and then I'll start again
No I won't leave, I wanna try everything
I wanna try even though I could fail
That last line has really resonated with me for the past year-and-a-half as I have been changing my life and trying new things. It has stuck with me throughout #FailForwardFebruary. And I hope that it is a way that I and other leaders can continue to view the world.
Yes, you might fail, but you might not. You might succeed beyond your wildest dreams. Even if you do fail you will be failing forward and you will be proud of yourself! Every great achievement starts with a decision to try.
The decision to try is something that has been very important to me over the past 20 months of my life. I have decided to try a lot of things and have a lot of achievements I am proud of as I worked to change from a life of obesity and self-doubt to a life of fitness and self confidence. I know I say it a lot, but I finished a half marathon just 16 months after I was 325 pounds! I discovered that I have superpowers I didn't know existed. I know I can accomplish bigger things than I ever thought possible. I just have to set a goal and take that first step. Then I have to use project management to stay the course.
This is why I have decided to take another big step. In just a few weeks I am going to release my first book. This book shares the story of how I used project management to lose over 100 pounds in under a year and the lessons I learned along the way.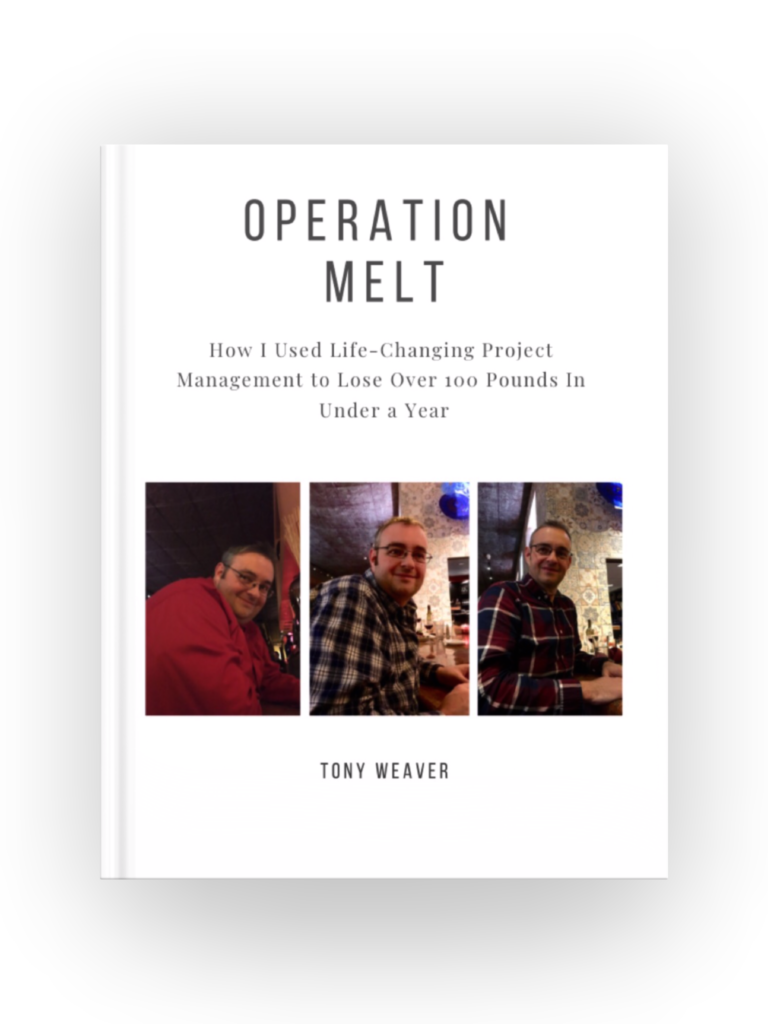 Will this book be a success and will tons of people buy it? Maybe. Will it fail and sell zero copies. Maybe. But, you know what, I took the risk and I tried. Not matter the result I know that I did it. So I am already successful!
If you want to hear more about when the book is ready please sign-up for my weekly email at OperationMelt.com/mail/
Call to Action: that dream that's inside you right now… that thing you wish you could do.. Try it! Do it! Take the risk! Show others that you have the courage to chase your dreams despite the risk of failure. And, if you do fail, just remember that you are failing forward!
About Reflections on Leadership
Reflections on Leadership is my weekly article series reflecting on what it means to be a great leader. I hope that these thoughts can help you with your own leadership development journey.
My mission for Operation Melt is to help you melt away all of the obstacles to achieving your goals, not just your fitness goals. So, helping us all become better leaders is fully aligned with that mission. Maybe this will help achieve the Operation Melt vision…
To create a world where goals never die of loneliness.
Thank you for reading and please feel free to share your perspective on this topic, my Reflections on Leadership series or anything else via a share on social media or message me directly.
Join my email list to have weekly Operation Melt updates delivered to your inbox: https://OperationMelt.com/mail/