Weekly Inspiration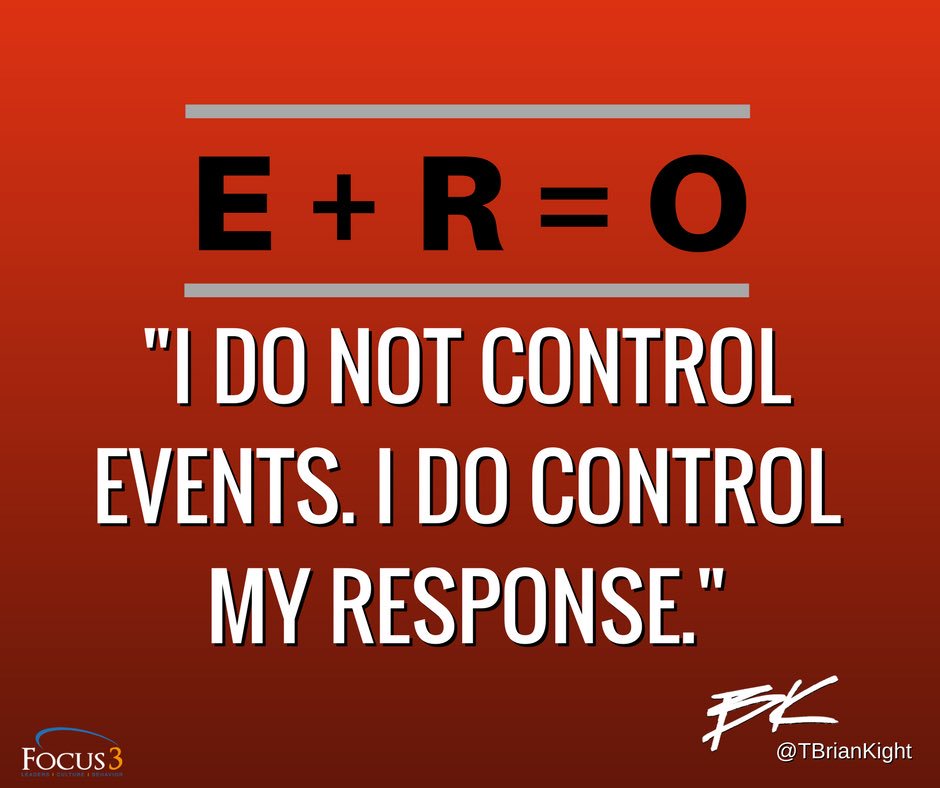 E+R=O, Leaders Have a Choice to Make
In 2015 I had a rare opportunity to attend a corporate leadership development retreat hosted at Ohio State University in the Buckeye football team training facility. During this retreat we did the traditional review of our strategy and other normal things as well as getting to tour the stadium and go out onto the field.
After lunch we had an opportunity to attend a professional development workshop presented by Tim Kight, the creator of the R Factor. If you don't know what the R Factor is it is a system based on the equation E+R=O… or the events plus your response to them are what produces outcomes. This system was made even more popular when it was featured in Above the Line a book by Urban Meyer discussing how he led the Ohio State football team to a national championship using this system. Urban and Tim are good friends and Tim worked very closely with the team that year.
I was really into the R Factor for a while but had drifted away from it until recently. Over the past couple of weeks I have been listening to the Focus 3 Podcast with Tim and Brian Kight (father and son). Listening to this podcast with fresh ears helped me fall in love with the concept of the R Factor all over again. The magic is in its simplicity and universality.
One concept in the R Factor and the Focus 3 Podcast really resonates with me … discipline over default. Put simply our default behaviors, thought patterns and mindset (when we operate on auto-pilot versus being deliberate) is what holds us back from elite performance. If we just press pause and think "what response does this situation require of me in order to achieve my desired outcome" we are on our way to becoming the best versions of ourselves.
This concept resonates so much with me because I think it is honestly at the core of nearly every self-improvement process, model and system. But the R Factor is the only place that I remember hearing it stated so simply. Focusing on discipline instead of on default is the unlock to amazing accomplishments. It applies everywhere and is something that each of us can tap into nearly every minute of every day.
Discipline over default recognizes that we each have choices that define our outcomes. By choosing wisely and choosing a discipline-based approach we move closer to becoming the best version of ourselves!
In order to illustrate my point of view about the universality of discipline over default, I will share an example outside of the leadership setting. I will share an example of how discipline over default applies in the health and fitness environment.
As many of my readers know, I have been going through a personal transformation for the past 15 months or so. In June 2017 I decided I was going to lose over 100 pounds in under a year after a lifetime of obesity. I frequently tell people that my "secret" (because everybody is looking for secret ways to get rich and thin quickly) was combining data and project management to accomplish my goal.
It occurred to me this week that I have a different "secret" to my weight loss journey – the R Factor. I chose discipline over default every day for 15 months and it resulted in me losing 130 pounds. I chose to get my mind right and pay attention instead of just continuing to coast through my health decisions.
If choosing discipline over default for just 15 months can result in me losing 130 pounds it can be successful anywhere!
Call to Action: when faced with difficult choices take a second to press pause and think about the situation that you are facing. Think about what the situation requires of you and make the right choice. By making a choice to choose the right response to the events you are facing you can generate the outcomes that you want!
About Reflections on Leadership
Reflections on Leadership is my weekly article series reflecting on what it means to be a great leader. I hope that these thoughts can help you with your own leadership development journey.
My mission for Operation Melt is to help you melt away all of the obstacles to achieving your goals, not just your fitness goals. So, helping us all become better leaders is fully aligned with that mission. Maybe this will help achieve the Operation Melt vision…
To create a world where goals never die of loneliness.
Thank you for reading and please feel free to share your perspective on this topic, my Reflections on Leadership series or anything else via a comment on this post, a share on social media or message me directly.