Week 51 of my Operation Melt fitness journey is complete which means this is my anniversary week and the countdown to the official "fit-aversary" on 6/15. Technically, 6/15 is the anniversary of me making the decision and 6/16 is the anniversary of me really starting. But who's counting, right?
Race Week
This is the week of my Operation Melt First Time 5k run.
It will happen Saturday at 10a at the Scioto Audubon Park. It will be my first ever 5k and it will commemorate the anniversary of starting my fitness journey.
As it stands now, we have a total of 11 runners which is right in the ballpark I where I was hoping we would be. We also have some support people to handle the water station and to support us at the finish line. And there is a group of 12 or so that will be doing the brunch at CBC afterwards.
This week I need to finish my training and preparations for the run. On Monday I plan to run the course one last time with a friend of mine. But after that I don't plan any additional distance runs for the week. I want my body to really get some rest. On Friday I am planning to have a complete rest day to really prepare myself.
The other important task for me this week is to figure out how I want to mark the route at the course. The easiest way is probably some sidewalk chalk, but I guess I will figure that out.
Fundraiser Preliminary Results
Barring any additional donations, we raised $575 for Central Community House. It isn't a ton of money but I know that it will be put to good use. I am just glad that my event will be able to help others too.
Central is focused on helping families escape poverty and that is important to me. I know first hand about the link between poverty and obesity. I grew up in poverty in my family and this didn't set the stage for healthy habits. That is a big part of what led me to obesity.
In this picture, I was in kindergarten and my Body Mass Index (BMI) was already 30, which is obese.
My BMI fluctuated up and down through the rest of my school years, but it was always just under or well above the 30 mark. Fitness and good habits were not a priority for my family when I was growing up, we were mostly focused on day-to-day survival. So, these good habits weren't a priority for me in my adult life because I was always focused on making lots of money and living a life of fun. That is, until a year ago.
I hope that the money we raised can help give families new choices so that poverty is not an issue for them. Once that happens, they can focus on building good habits and preventing obesity from impacting their lives.
Rest Day Walkabout
On Friday of this week I had planned to have a rest day. I had ran on Thursday and wanted to run on Saturday and Monday, so I wanted to make Friday and Sunday days that I took a break from running and let my body rest. So on Friday, I decided that I was just going to go for a short walk to get some exercise.
Rest day fail! Friday turned into my new personal record day.
I walked from my house in Merion Village through German Village and stopped for coffee. From there, I walked through downtown Columbus.
My path then led me through the Short North, through Victorian Village, through the Arena District, to North Bank park.
From there I hopped on the Scioto Trail and went through the Scioto Mile, River South and back to the Audubon park in the Brewery District.
I would have walked even further if it hadn't been for the thunderstorm and downpour that forced me to Uber home!
I even took a minute to stop and pose with this guy!
I really enjoyed the nearly 10-mile walk and the chance to explore my city. One of the things I have really appreciated about being out of work during my fitness journey is the chance to be a tourist in my own city. I have discovered so many interesting little corners of the city and areas of beauty as well as walking paths I never knew existed.
New Record Weight
On the topic of setting new personal records, I hit a new personal best weight this week. On Thursday morning, I weighed in at 208.2! This is just about 117 pounds less than where I started this journey.
I am certain that my revised Operation Melt goal of 125 pounds by the end of this week is completely unreachable. But I am pleased with the fact that I will hit about 120 pounds lost! Then I will reach the 125 pounds mark in the next couple of weeks, probably by July 4th.
Why 125 pounds? Because that will put me under 200 pounds for the first time in my adult life. I think the last time I was 200 pounds I was a junior in high school, maybe just a freshman. Here are my high school yearbook pics, you be the judge!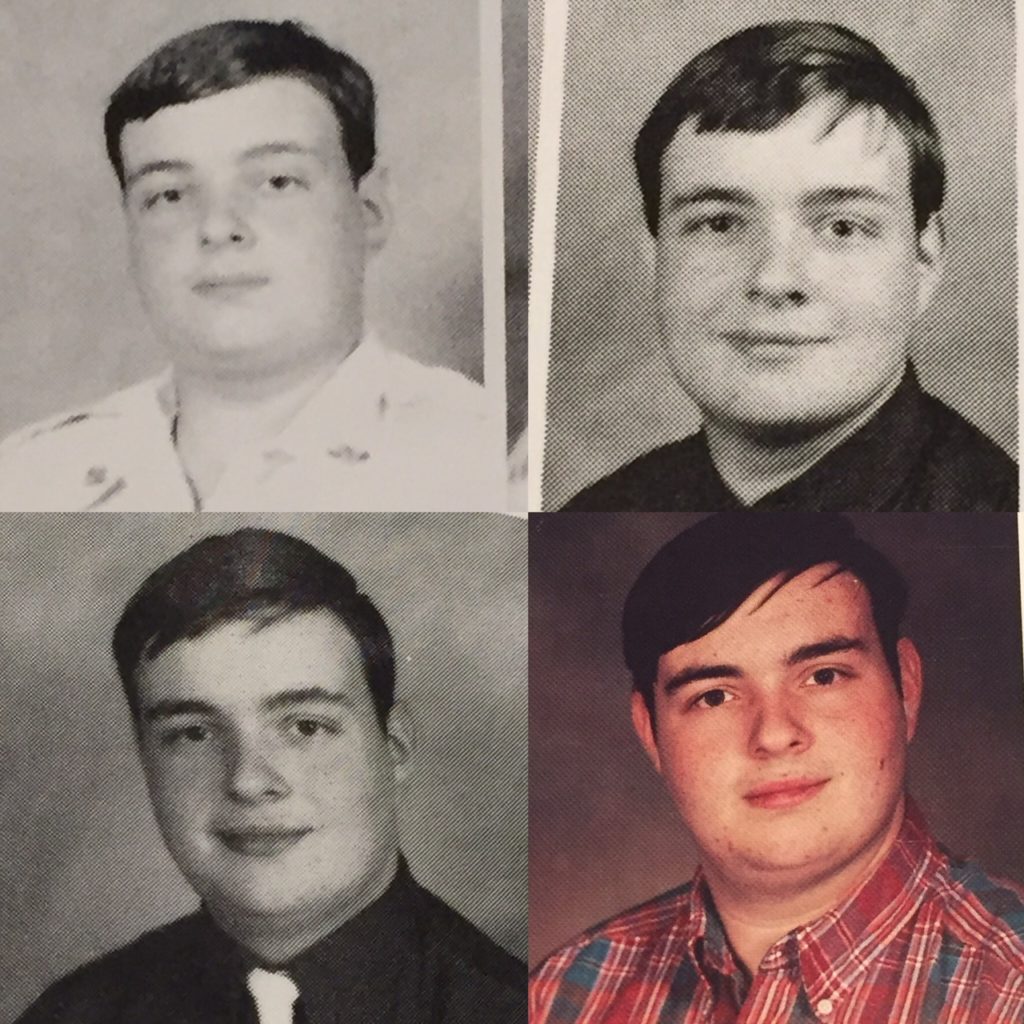 Getting under 200 pounds will be a major accomplishment and victory for me. That is when I will likely stop focusing on the weight and turn my attention to all of the other things like building and shaping muscles. I have been doing that now, but it has been secondary.
Under 200 pounds is where I will also adjust my daily calorie intake targets to be in "maintain" mode instead of loss mode. That is another 1000 calories per day! But, I don't want to get ahead of myself here.
One other interesting fact here… I am openly putting my body weight numbers on the Internet in a post that lots of people are going to see. This is a big change in my life! I used to be super embarrassed about my weight and now I am not!
I am proud of how much I weigh. I am proud of my body. I am proud of my physical abilities. I am proud of my accomplishments. I am proud of the fact that I believe I have discovered my very own superpower – the ability to convert goals into reality. And I am proud that I am in a position where I can help other people achieve their own successes.
Even more exciting, I have a vision for my life purpose!
I want to create a world where goals never die of loneliness.
Plans for Week 52
I have been thinking about what to do differently this week to commemorate the 52nd week of my journey. I am planning to spend some time on social media sharing a "best of" my journey through pictures I have taken along the way. So, if you don't follow me yet, plus go out and follow me on Instagram (@OperationMelt) and Twitter (@OperationMelt) to see some of these pics.
Check back next week for more!
Last week's stats (5/28-6/3):
Distance walked/run: 46.9 miles
Total calories burnt: 26,051
Total calories consumed: 14,826
Weight change: None