This week has been filled with lots of ups and downs and some eye-opening moments. This may be my last week in between jobs or at least my last full week. So over the next two weeks my routine is going to be changing and I will be starting a whole new chapter. Plus we are only 3 weeks away from my Operation Melt First Time 5K… still time to sign up to join me!
Progress Slowing or Progress Changing?
My progress with weight loss was minimal again this week. I am concerned that my progress is slowing but I am not sure that is really what is happening. I think my progress is just changing a bit and not reflected directly on the scale as much.
As I have been working with my trainer and as I have been continuing to train for my 5k, I think that my fat loss has continued but I am gaining muscle. I am seeing myself get stronger and seeing my muscles grow. That cannot happen without an associated weight change from the muscle gains.
It is frustrating not to see the numerical results that I have been seeing for a year because that is how I am wired. But, I also need to be patient with myself a bit because I am transforming before my very eyes!
Calories Increasing
One area that is has me a little concerned is that my average daily calories seem to be increasing and I am not sure how that is happening.
Here is a quick refresher on how my calorie management works. My daily calorie target is in the low 1700s (based on my current weight) which includes enough of a deficit to drive a 1-2 pounds per week weight loss. Any calories I burn through dedicated exercise time get added directly to my calorie target. So burning an extra 1000 calories of exercise means that my daily calorie target is now 2700. Think of it as gross calories and net calories.
As I have looked at my calorie trend over the past 4 weeks, the average daily gross calories have been increasing. Some of this is intentional as I have been on a quest to increase protein intake and not over-train and under-nourish. But not all of it has been intentional and I need to spend some time debugging the issue.
I am not drinking more alcohol, though there have been some days where that is the case. I am not eating more crappy food by any means – I am eating pretty damn healthy. But I am eating more meat and other protein heavy things which do come with more calories.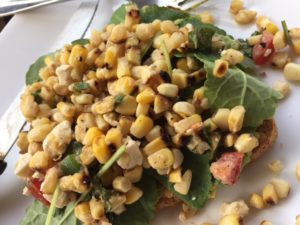 On the positive side, I am not seeing myself miss my net calorie target because I am also exercising a lot. Though I did exceed my net target this weekend and I will talk about that more in a minute.
I know that I am not eating so many more calories that it is having a negative impact on me and I am likely eating a healthy amount based on my training intensity. But it is concerning that I am both eating more and losing weight more slowly, though I know that there is not necessarily a direct correlation based on all the facts.
Old Habits Die Hard
We decided to celebrate the impending end of my sabbatical (that is what I have decided to call it) and the long Memorial Day weekend by taking an extra long weekend at our lake house. We came up on Thursday afternoon and, with the exception of a quick trip back to Columbus, are staying through the long weekend – 5 total days.
When we are at the lake, we spend a lot of time relaxing and I spend a fair amount of time exercising now. In fact as I am writing this, I just finished a 3.2 mile run after doing some yoga. If you follow me on Instagram, you already know that because I like to share my meals and my workouts with my followers there.
The other thing we do a lot of at the lake is eating and drinking. We live .4 miles (oh, you better believe that I count those walks as exercise!) away from an amazing waterfront bar on our island, Cranberry Resort. We love going there, watching the people and watching the water and having a few beers while listening to the bands.
Plus in this small town it is really easy to find food options that are bad for you. You can easily eat pizza and burgers for every meal if you want. You have to be more intentional about your choices in order to eat healthy. I am going to be sharing a full how-to guide for eating healthy in small towns over the next 2 weeks.
With that context, I learned this weekend that my old unhealthy habits are still inside my brain just looking for a chance to come out. On Friday, I consumed over 3000 calories through the day at the lake! It wasn't through any one bad decision and it wasn't all terrible foods, but it was a series of 100-calorie decisions that all added up.
I had a healthy breakfast before going for a run and a healthy snack, I call "second breakfast" after the run. All good, healthy foods, but it totaled 470 calories versus my 1700 gross calorie target for the day.
Then at lunch, I had a burger and a beer. I substituted a salad in place of the fries, only ate half the bun and the burger was topped with tons of veggies (southwest burger) including avocado. But my lunch came in at another 800 calories. That left only about 400 calories left (before adding exercise) for dinner. Then we stopped for a couple of drinks at a local bar that had just reopened after a fire and that pretty much exhausted my calorie target for the day and there was still dinner to be had. At dinner, Liz and I split a steak and we each had a side salad and wine for a total of another 750 calories. Then we went to Cranberry for drinks and to hang out and watch the band. In total, I consumed 3107 calories.
Fortunately, I also had a ton of exercise and burned about 1200 calories in running, walking and yoga through the day. Then, when I noticed that my net calorie target was in jeopardy, I went out for a long and fast late night walk that totaled another 480 calories burned.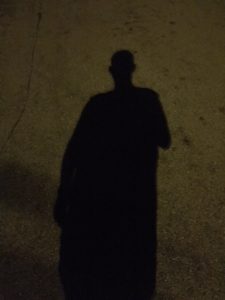 Then the whole process repeated on Saturday with the exception of the exercise because I planned Saturday as a rest and recovery day – though I did decide to go for a semi long walk to get some calorie burn in. So, on Saturday, I exceeded my net calorie target for the first time in a long time and I did it by over 400 calories.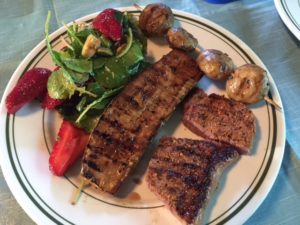 I know this was a long story but I wanted to share it for a reason. Poor fitness isn't something that we can just fix and move on. Improving your fitness is a lifelong commitment to a new lifestyle. While not every day will be a success, the vast majority of days need to be. Those old bad habits are still there and can easily take over if you let them. If you operate on fitness autopilot for just one day they will certainly seize that opportunity to take over.
So… I have learned that I need to always be diligent, always stay focused and always remember that my health and fitness is a top priority. I am not where I want to be, but I am miles away from where I started!
Check back next week for more!
Last week's stats (5/14- 5/20):
Distance walked/run: 45.6 miles
Total calories burnt: 25,829
Total calories consumed: 14,441
Weight change: No change