My Results: 325 Pounds to Half Marathon
Ok, lots of talk on this site, but I also want to share my results. I experienced significantly positive results in a number of different ways and I want to share them all with you. I am proud of my results AND I am hopeful they will inspire you to pursue and crush your own goals.
Weight Loss
This graph depicts the latest snapshot of my weight loss progress to-date.  You will notice that it is a constant blend of ups and downs as is this journey.
More Than the Numbers
The numbers are very important to me and really tell the story of my results so far. The numbers are a huge motivator, but they don't tell the full story by any means. Let me show you my results through some before & after pictures.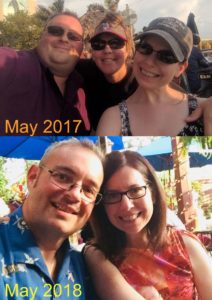 Achievements
One of the most rewarding parts of this journey has been to accomplish things that I couldn't have thought possible when I started.
My First 5k
I hosted and ran my first 5k on the 1-year anniversary of kicking off my Operation Melt journey – the Operation Melt First Time 5k. I never expected to be a runner and here I am running my first 5k. Read more about it in my blog post: Milestone Moment: One Year of Melting.
Then I Kept Running & Getting Better
I didn't stop at my first 5k. I kept running more and more races and got faster each time. I even ran the Columbus Oktoberfest 4-miler (really only 3.54 miles) which was a stretch goal I set for myself in the first few months of my journey.
Columbus Half Marathon
One of my biggest accomplishments to date was finishing my first half marathon at the Columbus Marathon. This was an amazing and emotional moment for me. I finished a half marathon just 16 months after weighing in at 325 pounds after a lifetime of obesity! Read my full half marathon recap in my blog post: 325 Pounds to Half Marathon.
Writing this 2 weeks later I am still in awe about this achievement. It wasn't my fastest run but it was my biggest (and one of the most difficult)  accomplishment yet in my journey.
Rediscovered Myself
Finally this journey has produced a result that I never expected – I rediscovered myself. I learned that I am powerful and can accomplish anything I decide to make a priority. I built more confidence in myself than I ever had in my life.
I also learned that I have superpowers! I am able to change goals into results for myself and for others. I have a passion for helping people achieve their biggest goals and want to follow this passion! I am going to turn this journey, my successes and my superpowers into an unstoppable mission.
I am going to prevent goals from dying of loneliness! 
Want to know more about my results, my accomplishments or the lessons I have learned? Want my help with your journey? Want to share your own accomplishments with me? Please reach out using the Contact Me page.
Keep Reading…
<<My Approach |  My Story >>
Or dig a little deeper in My Blog